Automatic Wire Crimping and Sleeve Inserting Machine

Model

KS-T311

Brand

KINGSING

Price
Consistent high productivity and flexibility with maximum precision are the requirements fully automated wire processing has to meet, both today and in the future. KS-T311 is designed for two-sided cutting, stripping, crimping, plus two-sided automatic sleeve wearing function. Highly dynamic servo motor and V stripping blades allow the machine to process wire cross section ranging from 0.08 mm² to 2.5 mm² (AWG13 ~ AWG28) depending on the material. 4 mm² and 6 mm² are also available as an option. As part of its standard equipment, the machine has a pre-feeder, wire-end and knot detection, as well as two wire straightening units. The integrated pre-feeder assures gentle wire feed from drums, coils or reels even at high draw-in speeds. The machines process conductors with All required processing parameters such as wire feeding speed, cutting length, stripping length and crimping depth can be set in and saved in the LCD touch screen. The wires and terminals are handled carefully, gently during cutting, stripping and crimping procedure. This machine is suitable for both OTP side-feeding die as well as OTP straight-feeding die, we can customize the machine to apply to other die according to customers' requirements. If you have special die set, we can change the machine to fit your die (for example: JST, Molex, AMP and other brand die set are both customizable) This feature greatly improved the flexibility of its application and increased output largely.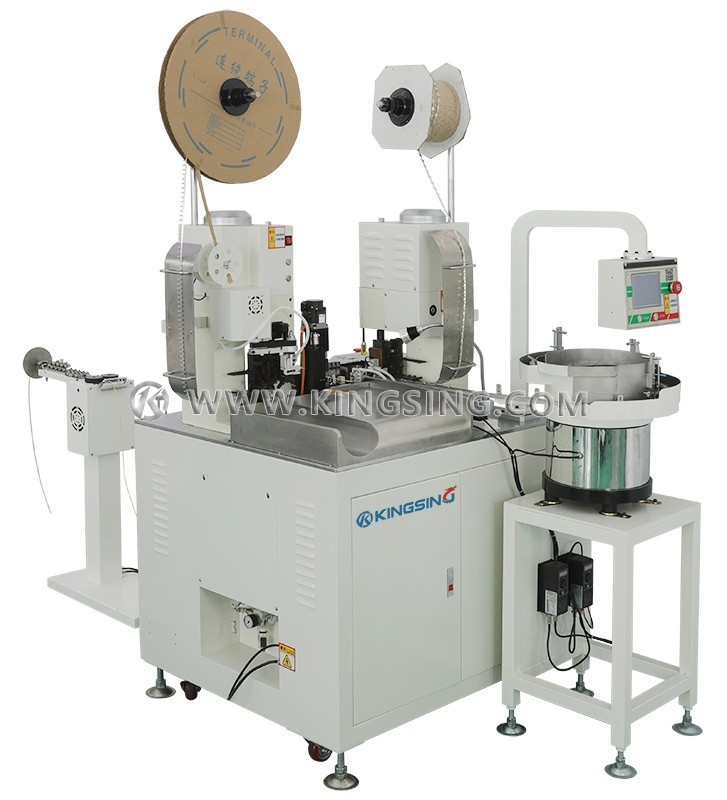 Specification
Available Wire Gauge: 0.08 ~ 2.5mm2 (AWG13 ~ AWG28)
Cutting Length: 80mm ~ 3000mm (longer than 800mm, suggest to install a conveyor belt)
Stripping Length: Wire Head 10mm, Wire End 14mm
Stripping Accuracy:± (0.002mm× Stripping Length)
Cutting Accuracy:± (0.002mm× Cutting Length)
Crimping Force: 2.0Ton
Stroke: 30mm (40mm is customizable)
Display: 5.7" Touch Screen
Speed: 2000~3000 pcs/hour
Air Pressure: 0.5MPa - 0.6MPa
Power Supply: 220V/50Hz 110V/60Hz
Power Rating: 2750W
Net Weight: 490Kg
Dimension: 1130 × 840 × 1980mm
Customized Function
1. Design a vibration plate for loose terminals, automatic feed terminals to crimping die.
2. Install a wire conveyor belt for processing long wire (such as 2 meters long wire processing).
3. Add a pressure monitor system to monitor each terminal's crimping force.
4. Change the machine to fit other brand die set.
5. Other function the customers require to implement.