Fully Automatic Wire Stripping Crimping and Tinning Machine

Model

KS-T103

Brand

KINGSING

Price
Reliability and top production performance coupled with multiple function are the featuresthat make this automatic Cutting and Tinning Machine KS-T103 such a compellingproduct. KS-T103 integrated the function of cutting, stripping, twisting,tinning and crimping. All the processing cycles are fully automatically, noneed for manual operation. With the high performance of LCD touch screen, allof the setting can be done easily by pressing some buttons. The machine has aspecial system to control all of the processing, such as the cutting andstripping length, crimping force, tinning time and depth which are verydifficult to control by manual. Both side-feeding die and straight-feeding dieare available for processing, and the changeover between different die sets areeasy and timesaving. We provide customize service for customers with otherbrand of die such as JST, AMP, MOLEX, etc. Moreover, KS-T103 has the advantageof a very affordable price, it considerably saves both labor and money costsfor its owners.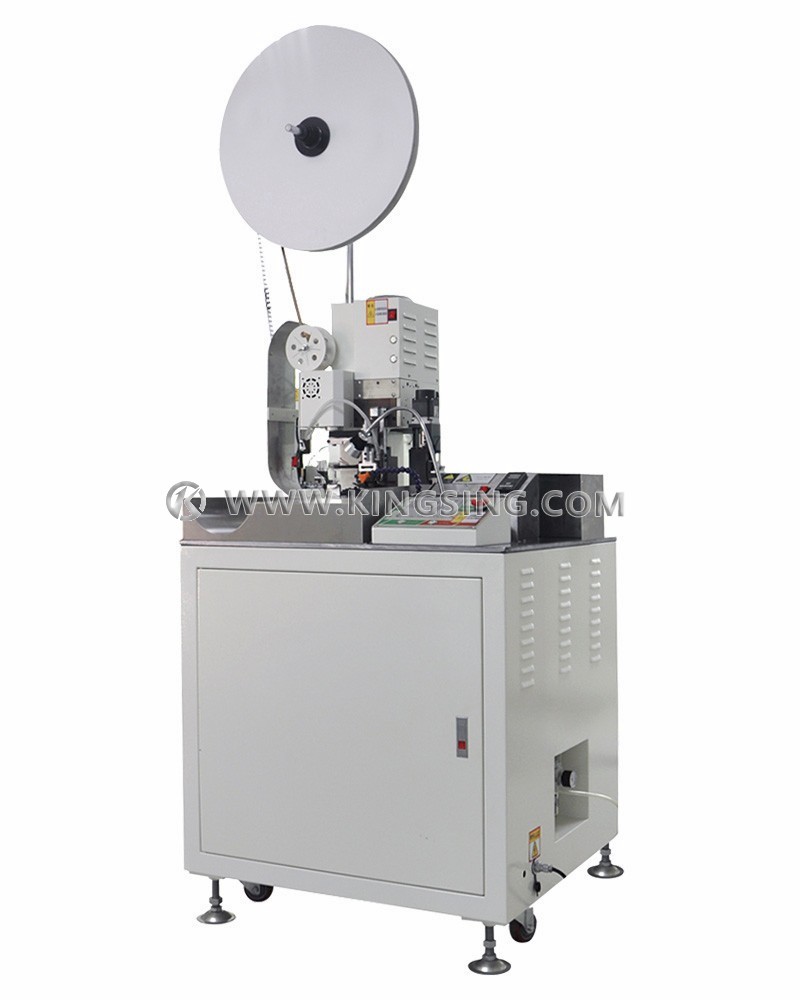 Available Wire Gauge: 0.08 ~ 2.5 mm² (AWG13 ~ AWG28)
Cutting Length: 30mm ~ 1500mm (longer than 800mm, suggest to install a conveyor belt)
Stripping Length: Wire Head 10mm, Wire End 14mm
Twisting and Tinning Length: 2 ~ 15mm
Stripping Accuracy:± (0.002mm× Stripping Length)
Cutting Accuracy:± (0.002mm× Cutting Length)
Crimping Force: 2.0Ton
Stroke: 30mm (40mm is customizable)
Display: 5.7" Touch Screen
Speed: 3000 pcs/hour
Air Pressure: 0.5MPa - 0.6MPa
Power Supply: 220V/50Hz 110V/60Hz
Power Rating: 750W
Net Weight: 280Kg
Dimension: 1060 × 840 × 1980 mm

Customized Function
Design a vibration plate for loose terminals, automatic feed terminals to crimping die.
Change the crimping machine to casting version with more stable performance.
Update the stepping motor to server motor with higher precision.
Install a wire conveyor belt for processing long wire (such as 2 meters long wire processing).
Add a pressure monitor system to monitor each terminal's crimping force.
Other function the customers require to implement.