Automatic Wire Crimping Machine With Sealing Station

Model

KS-T201

Brand

KINGSING

Price
KS-T201is one of our newest wire processing equipment. It contains the function of sealloading on one or both wire ends, various terminals and crimp connections ofdifferent lengths and the same wires can be processed without difficulty. Thecross section range extends from 0.3mm² to 6.0mm². With the touch screen,keyboard and mouse, the KS-T201 can be oper­ated in a time-saving and ergonomicfashion.
Thewire is processed using programmable, highly dynamic servo-drives and Vstripping blades. As part of its standard equipment, the machine has a pre-feeder,splice, wire-end and knot detection, as well as wire straightening unit. Theintegrated pre-feeder assures gentle wire feeding from drums, coils or reelseven at high draw-in speeds
Nomatter what products you manufacture on the KS-T201, this machine's intuitiveoperations allow you to make full use of its flexibility. The die set changingand wire changing are easy and quick through touch screen. All product data aresaved in a database and can be retrieved at any time. Crimp-heightmeasurement and fully automatic pull-out force measurement are integrated inthe machine. Optional barcode scanner helps to prevent materials from gettingmixed up. Optional wire coding function also can be integrated into thismachine. The processes are constantly checked against the specified valuesduring production with functions that monitor crimp force, seals, splices, endof wire supply, and length. Any cables with processing defects are removed andan appropriate number of cables are post-processed automatically to replacethem.
Features:
1. Thismachine adopted FP2 RTX internet bus system, high accuracy, fast response, real-timemonitoring.
2. Crimpingmachine equipped with high precision imported servo motor, high accuracy andvery stable.
3. Pneumaticcomponents adopted imported SMC, highly efficient and stable, long lifetime.
4. Die setadjustment are fully automatic, crimping height and force are able to be modifiedtrough touch screen.
5. Fullclosed loop wire feeding system, synchronous belt wire feeding device ensure nodamage to the wire surface and improved feeding precision.
6. Importedpressure monitoring system allow real-time monitoring of the products, the unqualifiedproducts can be removed directly, and 100% quality guarantee.
7. BasicFunction: wire Pre-feeding, one end or both ends wire cutting & stripping, oneend or both ends terminal crimping, seal Loading, wire collecting
8. OptionalFunction: wire coding, bar code scanning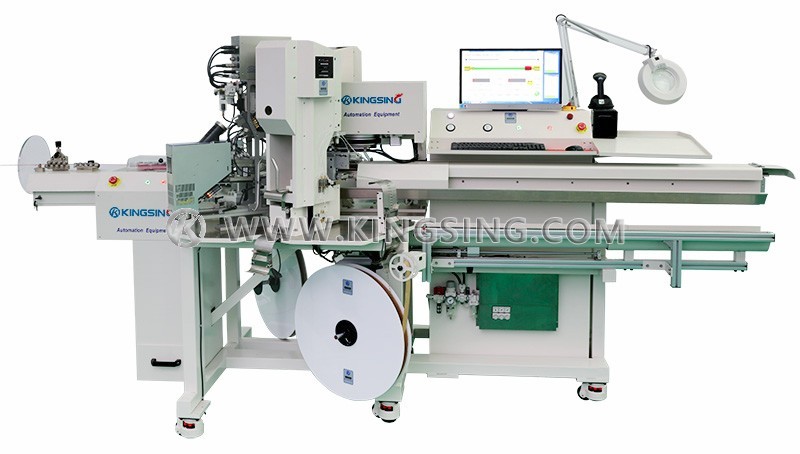 AvailableWire Gauge: 0.3 ~ 6 mm2
WireCutting Length: 60mm ~ 10000mm
WireStripping Length: 0.1 ~ 18mm
FeedingSpeed: Max. 8.0 m/s
CrimpingForce: 3.0Ton
CrimpingMachine Stroke: adjustable
SuitableDie Set: 30mm or 40mm stroke both available
Speed:4500~5000 pcs/hour (depend on wire cutting length)
WireCollecting: 2m~4m (can be customized)
AirPressure: 0.5 ~ 0.7MPa, 8m3/h
StrippingAccuracy:± (0.002mm×Stripping Length)
CuttingAccuracy:± (0.002mm× CuttingLength)
PowerSupply: 220V/50Hz 110V/60Hz
PowerRating: 1800W
NetWeight: 1100Kg
Dimension:3500 × 1200 × 1700mm