Flat Sheathed Cable Stripping Machine

Model

KS-09P

Brand

KINGSING

Price
Wire processing today involves a large mix of products as requirements are becoming ever more difficult. KS-09P is the answer to this situation. High precision and short cycle times for full and partial pull-off are characteristics of KS-09P Flat Wire/Cable Cutting and Stripping Machine.
Excellent mechanical design and superior tungsten steel blade guarantee zero damage of wire/cable conductor.The customer has his choice of rubber rollers or iron rollers depending on his requirements. This machine performs full and partial pull-off operations on individual layers and the stripping length of both layers can be set differently. The machine is able to strip multiple layers of cable/wire insulation, for example, outer jacket strip 40mm, and inner core wire strip 3mm, with max. cross section range from 0.1 to 8.0mm2. This model is widely used in electronic industry, so far it has brought a very considerable profit to its users.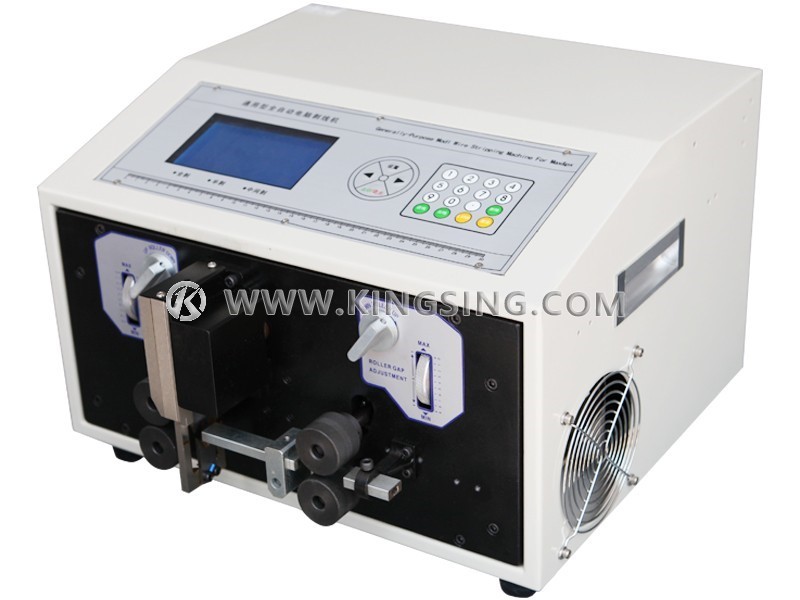 Available Core Cross-Section Range: 0.1 ~ 8.0mm²
Max. Conduit Diameter: Φ8.0mm
Cutting Length: 0 ~ 65000mm
Stripping Length: Head 0 ~ 99mm, End 0 ~70mm
Stripping Accuracy:± (0.002mm× Stripping Length)
Cutting Accuracy:± (0.002mm× Cutting Length)
Max. Middle Stripping Section: 13 places (2 places stripping length can be set independently)
Motor Step Angle Accuracy: 3-phase 6 shot 1.5/3
Speed: 3000~7000pcs/hour
Drive Mode: 4-wheel Drive
Display: LCD display with English menu
Blade Material: Hard tungsten steel
Power Supply: 220V/50Hz 110V/60Hz
Power Rating: 220W
Net Weight: 38Kg
Dimension: 420 × 390 × 280mm