1. The main parts of the equipment are from Japan (servo motors: Mitubishi) meeting the accuracy, speed and quality requirements of processing products.
2. With the German high-pixel image detection system, it can distinguish the good products from the NG products by referring to the image contour standard line of the qualified products, and place them separately through the coordinated action of the machine, so as to avoid customer complaints and losses caused by the mixing of NG products.
3. Equipped with Crimping Force Monitor, it can automatically generate tension pressure curve analysis diagram of crimping terminal, and automatically screen out the defective products according to reference to the standard wire, which not only increases the product qualification rate, but also reduces the labor cost.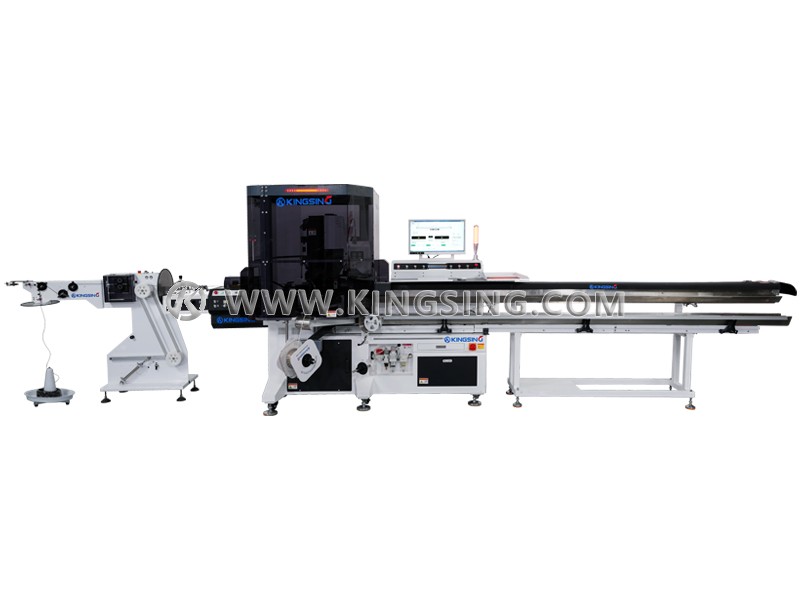 Functions: Both end mearsuring and cutting ,and at both ends(striping,semi-striping,crimping)terminal Vertical delivery device pre-feeding the whole line function.it can increase the function of piercing waterproof plug and spraying code by wire.
Capacity: 4000 pieces / h (depends on wire cutting length)
Wire Size: AWG 26-AWG12
Cutting length: 50-99999mm
Cutting Accuracy: + - setting length * 0.002
Stripping /Tinning Length: 1.0mm-15.0mm ; 1.0mm-15.0mm
Crimping Force: 3.0 Ton
Power Supply: 3- phase AC220V / 50Hz
Power : 7.5KW
Air pressure: 0.5-0.7Mpa
Overall Dimension: L 5761 * W 1624 * H 1975 (mm)
Net Weight: About 1000KG
Detection Device: air pressure reduction, presence or absence of wire, wire overload, presence or absence of terminal, terminal overload, stripping effect detection, terminal crimping effect detection and crimping force detection