This is a fully automatic one-to-many combination crimping machine, which is widely used in electric vehicles, mahjong machines and other industries. It uses U-shaped terminals to crimp one wire and multiple wires, and supports automatic insertion of a heat shrinkable tube at the combined crimping place and heat shrinks it in place. Except that the U-shaped terminal must be used in the combined crimping position, the other end of the wire can be crimped with various cross-feed terminals and direct-feed terminals.

This machine contains 3 sets of independent wire feeding mechanisms and 5 independent terminal crimping stations, so it can process 3 wires with different diameters at the same time (these 3 wires are called No. 1 wire, No. 2 wire, and No. 3 wire).Among them, No. 1 wire and No. 2 wire can be set to be used 1~3 times in the program, and No. 3 wire can only be used once. For example, when No. 1 wire and No. 2 wire are used twice, they can be combined with No. 3 wire to form a pair of four combination crimping. This machine can crimp 5 different types of terminals, among which No. 1 wire corresponds to 2 terminal crimping machines, and you can choose which type of terminal to crimp each time No. 1 wire is used in the program. There is one terminal crimping machine for wire No. 2 and wire No. 3 respectively; there is also one terminal crimping machine for crimping U-shaped terminals to realize one-to-many combined crimping.

Adopting the concept of modular flexible design, one machine can easily process many different products. When replacing terminals, only the corresponding crimping dies need to be replaced. Color touch screen operation interface, parameter setting is intuitive and easy to understand, the program memory function can save the processing parameters of different products in the database, and the corresponding processing parameters can be called out with one key when switching products.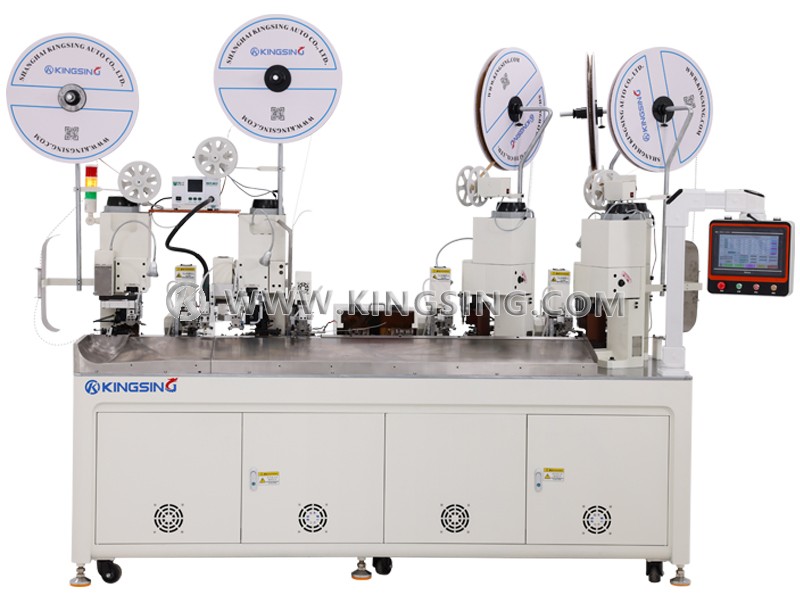 Applicable wire diameter: AWG28~16 (0.1~1.5mm2)
Cutting length: 50~9999mm (can be customized)
Stripping length: ≤10mm (can be customized)
Cutting accuracy: ±(0.5+L*2‰) L=cutting length
Maximum pressure: 2T (3T models can be customized)
Crimping stroke: 30mm (40mm stroke model can be customized)
Applicable terminals: cross-feed terminals, direct-feed terminals, flag-shaped terminals, etc.
Production efficiency: 1500~2500 pieces/hour
Operation interface: color touch screen
Air pressure requirement: 0.5~0.8Mpa
Rated power: 4000W
Working voltage: 220V 50/60Hz (110V can be customized)
Net weight: 1000kg
Dimensions: 2440*850*1600mm
Optional configuration: safety shield, terminal pressure monitor, visual inspection system, servo terminal machine
Note:
In the case of extremely hard, tough wires, processing may not be possible even within the cross section range. In case of doubt, KINGSING will be happy to provide processing samples of your wires.

Conforms to the relevant CE directives on machine safety and electromagnetic compatibility.