Excellent price/performance ratio;

Easy to operate and have extremely short cycle times;

lt supports full stripping, half stripping, multi-layer stripping and twisting functions;

The top-quality, durable blades and components enable high processing speeds, which reducesthroughput times accordingly;

Color touch screen operation interface, parameter setting is intuitive and easy to understand.

lt can strip up to 10 lavers, the cutting depth and stripping length of each layer can be set freely inthe program;

Up to 99 groups of programs can be saved, and the processing parameters of different wires canbe saved in different program numbers, when the wire is replaced, the corresponding parameters can be called up with one key without any mechanical adiustments, which greatly increase the working efficiency;

Minimum conductor damage: the blades cut through the insulation and down to a thin ring around the conductor. That means the remaining area to be pulled off is small and the pull-off force is lower;

The rotating blades cut the entire circumference of insulation with precision. The cutting surfaceis smooth and free of lines or ridges.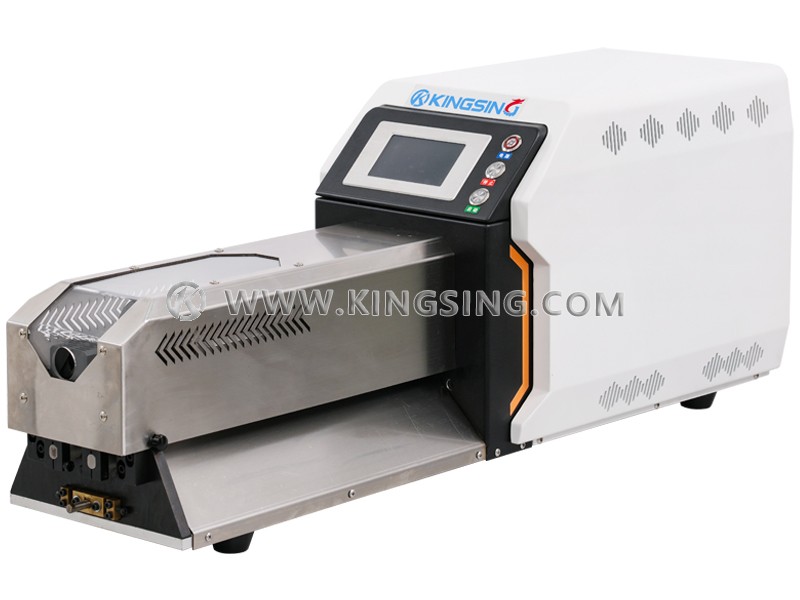 Model
KS-W5002
KS-W6611
KS-W6630
KS-W6631
Wire Diameter
Φ0.8~7mm
Φ1.5~15mm
Φ2.5~25mm
Φ2.5~25mm
Strip Length
0~55mm
0~100mm
0~80mm
0~200mm

Blade Qty
2pcs
4pcs
4pcs
4pcs
Capacity
800~1000 pcs/hour
700~800 pcs/hour
600~700 pcs/hour
600~700 pcs/hour
Power Rating
300W
500W
600W
800W
Net weight
25kg
34kg
38kg
51kg
Dimension
580*188*285mm
640*260*375mm
600*390*260mm
960*285*380mm
Strip Accuracy
±(0.1+L*2‰)mm (L+stripping length)
Display Mode
Color touch screen
Operating Mode
Foot switch/Button Control
Starting Mode
Single step/Single cycle/Automatic
Display Language
Chinese/English
Stripping Method
Rotary Blade
Driving Mode
Motor/Ball screw drive
Stripping Layer
Max.10 layers
Storage Capacity
99 sets of programs
Power Supply
220V 50Hz
Suitable Material
Coaxial cable, triaxial cable, shielded cable, TV signal cable, audio cable etc.
Note: Conforms to the relevant CE directives on machine safety and electromagnetic compatibility.