This machine is a servo-type fully automatic computerized wire stripping machine. The cutter, feeding wheel, and looping machine are all driven by servo motors. It integrates the functions of cutting, stripping, looping, and winding. It is often used for processing sheathed wires. The belt feeding greatly increases the contact area with the wire. While increasing the tension and enhancing the stripping ability, it can also reduce the pressure and reduce the damage to the surface of the wire sheath, and there is no indentation on the surface of the wire sheath.

The pressure and gap of the wire feeding wheel can be set directly in the program. When processing a variety of wires with different diameters, there is no need for mechanical adjustment, and the parameters can be set directly in the program. When the wire feeding wheel opens and closes, the upper wheel and the lower wheel move synchronously. Even if the diameter of the wire is different, the position of its center line remains unchanged, so it can ensure that the center of the wire feeding wheel, the guide tube and the knife edge are always on a straight line , so as to ensure that the stripping mouth is flat and not inclined.

This machine also has the function of automatic lifting wheel and jump guide. The automatic lifting wheel means that the outlet wheel can be automatically opened to avoid when the wire is stripped. Greatly increased stripping length range.

The program memory function can store the processing parameters of different wires into different program numbers, and can save up to 100 groups of programs. When processing the wire again, the corresponding program can be called out with one key. One machine can complete the processing of various types of wires, which is very versatile.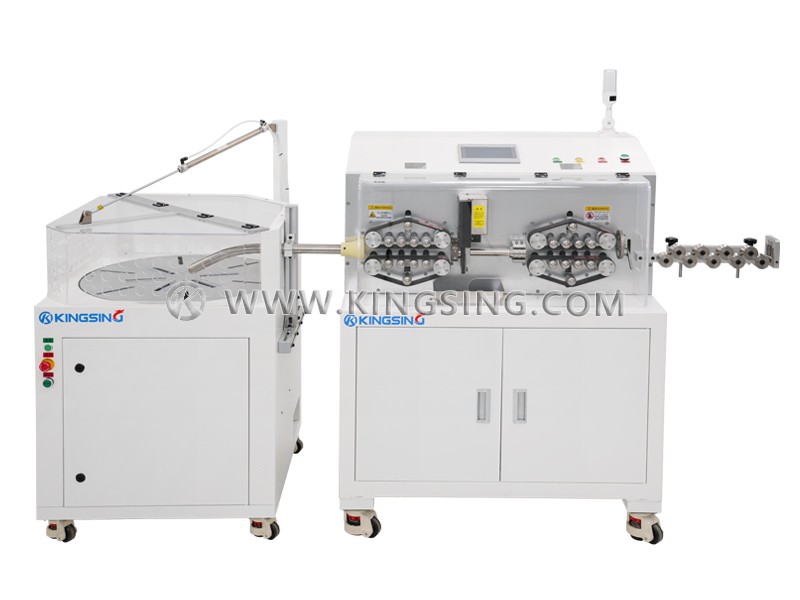 Applicable wire core area: 4~150mm2
The largest diameter of the catheter: Φ32mm
Stripping length: wire head 0~500mm, wire tail 0~250mm
Minimum glue length: 70mm
Maximum cutting line length: 100 meters (can be customized)
Cutting tolerance: 0.002*L (L=cutting length)
Program memory function: save up to 200 groups of programs
Working voltage: 220V 50Hz
There are 2 specifications for the circle machine to choose from:
| Circle machine model | Circle inner diameter range | Circle outer diameter | Weight |
| --- | --- | --- | --- |
| Small circle machine | Φ120~250mm | <Φ500mm | 55kg |
| Large circle machine | Φ130~300mm | <Φ600mm | 70kg |
Note:
In the case of extremely hard, tough wires, processing may not be possible even within the cross section range. In case of doubt, KINGSING will be happy to provide processing samples of your wires.

Conforms to the relevant CE directives on machine safety and electromagnetic compatibility.