This is a servo-type regular hexagonal mold-free crimping machine, which is mainly used for terminal crimping of large square cables such as new energy charging gun cables, car battery cables, and power distribution cabinet cables. The cross-section after crimping Hexagonal in shape, the crimp size can be set in the program without manual adjustment.

This machine is driven by a high-precision servo motor, with a color touch screen operation interface. The opening size of the applicator and the crimping size can be set in the program. One machine can crimp terminals of different sizes, just set the crimping parameters on the touch screen That is, neither need to replace the mold nor adjust the screw.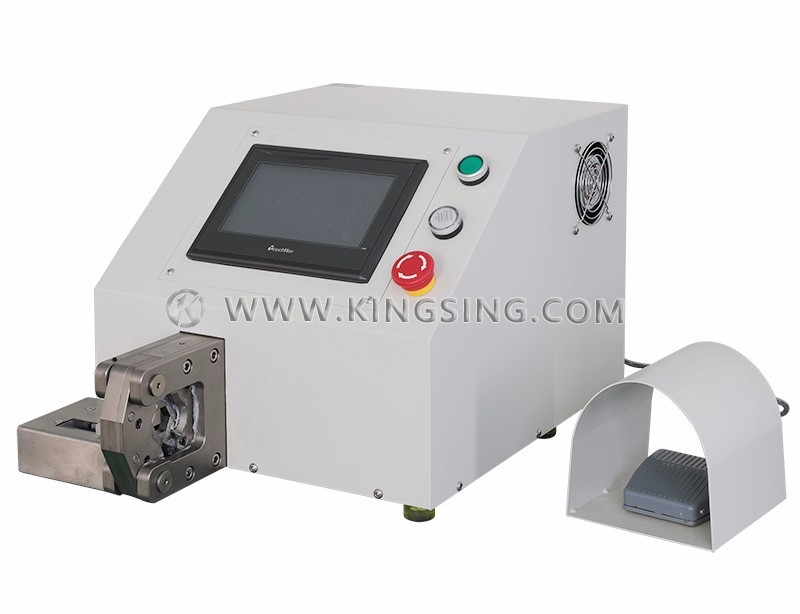 Maximum pressure: 4T
Applicable wire diameter: 2.5~35mm2 (0.5~10mm2 can be customized)
Crimp width: 8mm (can be customized)
Working voltage: 220V 50/60Hz
Motor power: 1500W
Net weight: 80kg
Dimensions: 560*370*300mm
Note:
In the case of extremely hard, tough wires, processing may not be possible even within the cross section range. In case of doubt, KINGSING will be happy to provide processing samples of your wires.

Conforms to the relevant CE directives on machine safety and electromagnetic compatibility.