Small size, save space;

Compact structure, simple operation, low working noise;

Designed by human structural mechanics to reduce fatigue strength;

The terminal positioning mechanism can set the crimping position according to the length of the terminal and automatically switch;

Industrial-grade chips cooperate with high-precision servo control system, with high crimping accuracy and stable performance;

There is no need to change the crimping applicator, and the blade opening size can be changed quickly;

The crimping blade can be fully opened, suitable for the crimping of intermediate continuous or large square terminals;

PLC control system and touch screen operation interface can switch between different crimp sizes with one key;

With the function of program memory and storage, which can save up to 32 groups of processing parameters,it can be directly switched to the corresponding program when changing the product, which is convenient and fast, and improves efficiency;

Equipped with the cycle crimping function, set different program numbers to form a crimping cycle, and automatically switch to another program after stepping on the pedal to complete acrimping, which is suitable for the case that the products of different sizes need to be crimped at one time. There is no need to manually switch the program number, which greatly improves work efficiency.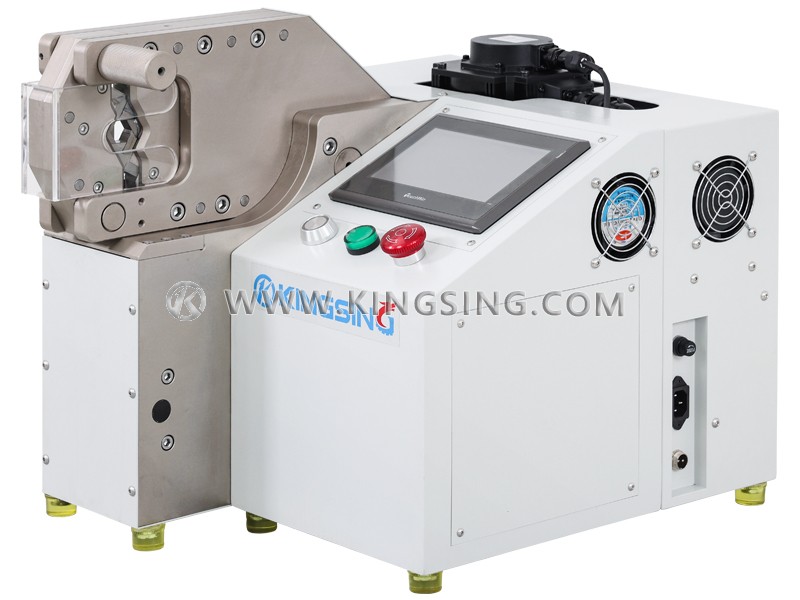 Applicable Wire Size: 10~120mm2
Crimping Force:200KN
Crimping Stroke:350mm
Crimping Width:12.5mm(can be customized)
Capacity:About 1000 pcs/hour
Operation Temperature:0~40℃
Machine Power: 2.3KW
Net weight: 120KG
Power Supply: AC220V 50/60Hz, single phase
Environment Humidity:30%~80%RH(no condensation at 40℃)
Dimensions: 450*590*480mm
Note:
In the case of extremely hard, tough wires, processing may not be possible even within the cross section range. In case of doubt, KINGSING will be happy to provide processing samples of your wires.

Conforms to the relevant CE directives on machine safety and electromagnetic compatibility.