This series is a servo-type terminal crimping machine with 3 sub-models (see technical parameters for details). Driven by a high-precision servo motor, the crimping height can be set directly in the program without manually adjusting the screws. The whole machine has precise workmanship, solid materials, strong rigidity, built-in optical encoder to control the crimping height, crimping accuracy can reach ±0.03mm, low noise, low power consumption, and stable output.

Support a variety of crimping applicators, such as: hexagonal applicators, quadrilateral applicators, four-point crimping applicators, B-shaped crimping applicators, etc. One machine can crimp a variety of terminals, just change the corresponding crimping applicator. Bayonet design, fast applicator replacement and easy debugging. This series of crimping machines are widely used in processing new energy vehicle wiring harnesses, charging pile wiring harnesses, etc.

Color touch screen operation interface, parameter setting is intuitive and easy to understand. The program memory function can save the crimping parameters of different products in the database, and the corresponding crimping parameters can be called out with one key when changing products. It supports continuous crimping of terminals of different heights, and can easily deal with the situation that the same terminal corresponds to multiple conductors of different thicknesses.

Optional computer industrial control system, Windows operation interface, supports network connection, and can be connected with the MES system in the local area network. The pressure data of each crimping is automatically saved in the database, which can realize quality traceability management. A code scanning gun can be selected, and the crimping parameters of the corresponding product will be automatically called out after scanning the code. Optional terminal pressure monitor can automatically alarm and stop when the pressure is abnormal.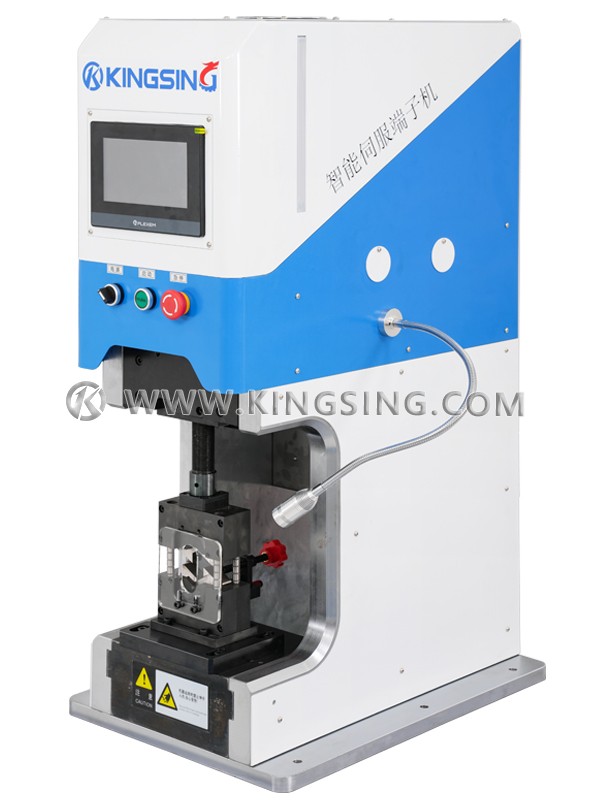 | | | | |
| --- | --- | --- | --- |
| Model | KS-T235A | KS-T235B | KS-T235C |
| Max Pressure | 20T | 30T | 50T |
| Effective Stroke | 50mm | 75mm | 75mm |
| Applicable wire diameter | 2.5~95mm2 | 2.5~180mm2 | 2.5~300mm2 |
| Net Weight | 450kg | 450kg | 570kg |
| Dimensions | 700*800*1550mm | 700*800*1700mm | 700*800*1900mm |
Crimping accuracy: ±0.03mm
Production efficiency: 300~400 pieces/hour
Start mode: start button, foot switch
Operation interface: color touch screen (optional computer industrial control system)
Rated power: 2600W
Voltage: 220V 50/60Hz
Note:
In the case of extremely hard, tough wires, processing may not be possible even within the cross section range. In case of doubt, KINGSING will be happy to provide processing samples of your wires.

Conforms to the relevant CE directives on machine safety and electromagnetic compatibility.