This machine is specially designed for processing new energy high voltage cables. It can automatically complete wire cutting, wire stripping, aluminum foil cutting, cutting weaving, turning weaving, inserting inner and outer rings, metal ring crimping, inner core stripping, terminal crimping, shell insertion, back cover, inserting waterproof components, etc. The aluminum foil is cut by a rotary sharp cutting machine without any damage to the inner layer. The cutting weaving and turning weaving also adopt special technology to ensure no damage to the inner layer. This machine is widely used in the new energy automobile industry, such as power battery high-voltage wiring harness, air-conditioning high-voltage wiring harness, motor drive system high-voltage wiring harness, motor controller high-voltage wiring harness, DC/AC charging pile, etc.

The whole machine adopts PLC bus control communication, full servo power system, and stable performance. Computer industrial control system, Windows operation interface, support network connection, production content can be edited and dispatched according to demand. Multiple sets of CCD visual inspection series are built in to monitor the quality of each process of wire rod processing to ensure product yield. The terminal crimping machines are all driven by servo motors, with a built-in pressure management system, which can monitor the pressure curve changes in each crimping process in real time, and automatically alarm and stop when the pressure is abnormal. This machine is a non-standard custom-made model, and the specific functions need to be designed according to the customer's process flow. One example is as follows: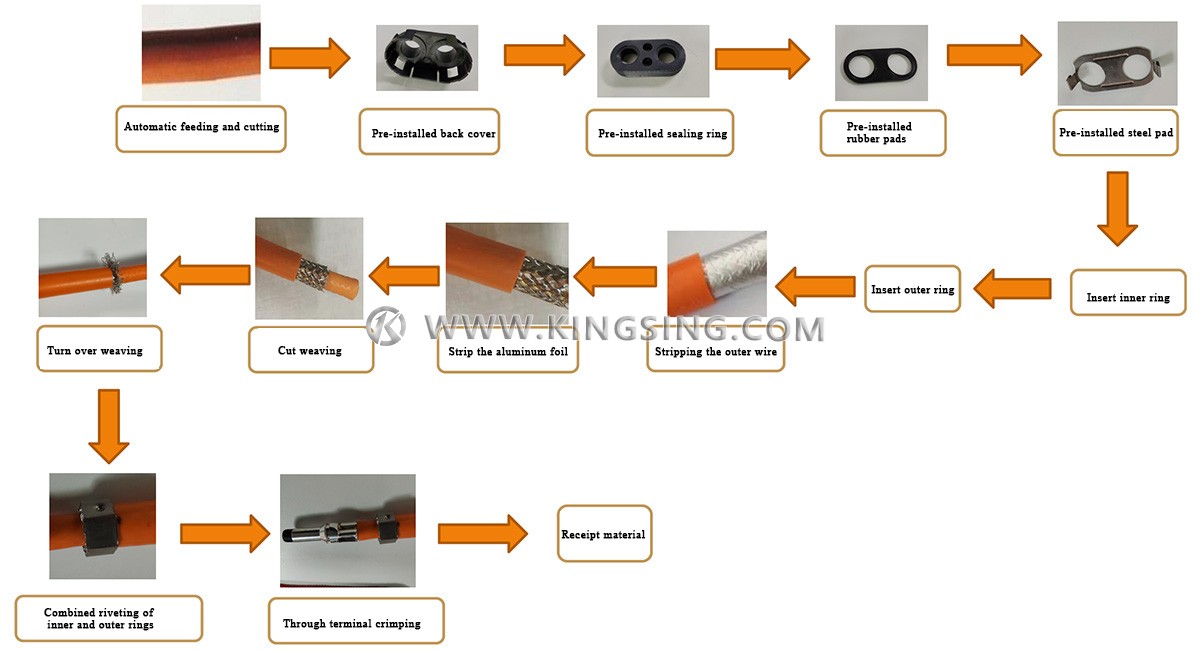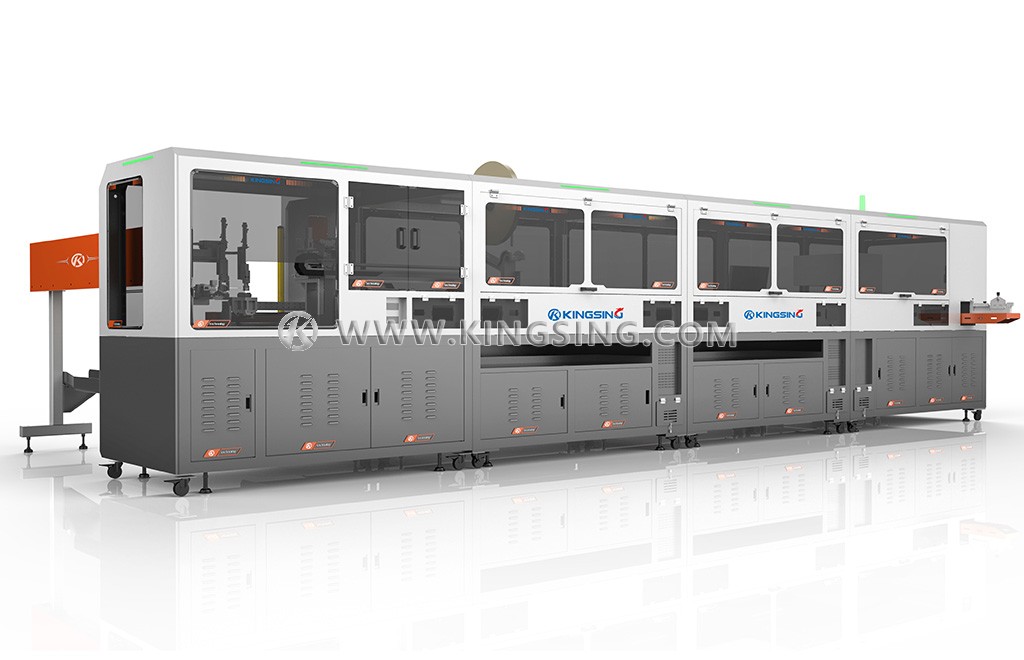 Applicable wire: 2.5~50mm
Processing length: 300~9999mm
Laser stripping aluminum foil: 3~50mm
Shielding mesh cutting range: 5~55mm
Cutting accuracy of shielding mesh: ±0.4mmm
Shielding mesh flip length: 5~20mm
Production beat: ≤18 seconds
Detection system: CCD visual detection, pressure monitoring
Air pressure: 0.5~0.7Mpa
Rated power: 20KW
Working voltage: 380V 50Hz
Net weight: about 3000kg
Dimensions: 8150*1450*1800mm
Note:
In the case of extremely hard, tough wires, processing may not be possible even within the cross section range. In case of doubt, KINGSING will be happy to provide processing samples of your wires.

Conforms to the relevant CE directives on machine safety and electromagnetic compatibility.