This is an economical four-wheel drive wire cutting machine. The wire feeding wheel can be rubber wheel or iron wheel. It is suitable for processing various BVR electronic wires and multi-strand copper wires. The gap size of the wire feeding wheel can be adjusted by the knob, and the processing parameters of different wire materials can be saved in different program numbers. When switching wire materials, the corresponding processing parameters can be called out with one key.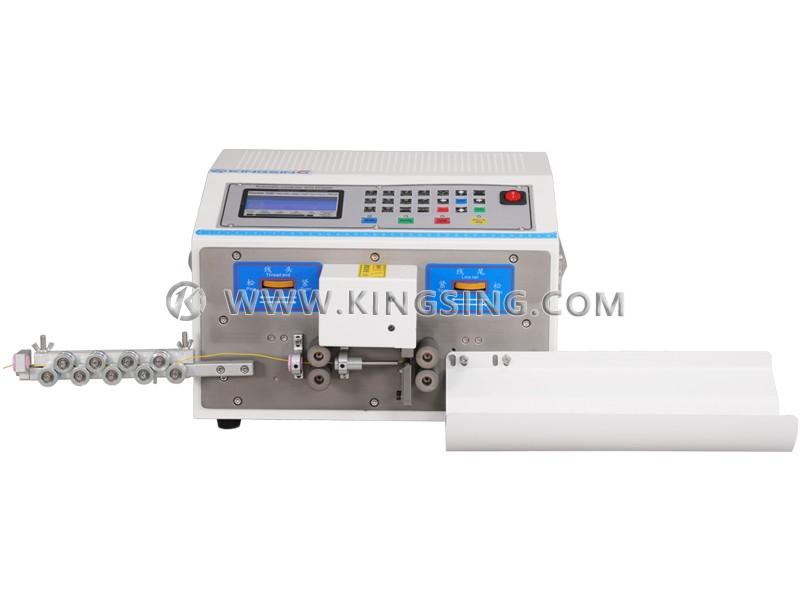 Applicable Wire Diameter: AWG28~12 (0.1~4mm2)
Stripping Length: the maximum length of the wire head is 30mm, and the maximum length of the wire tail is 15mm
Cutting Length: 0~9999mm
Cutting Accuracy: ±(0.5+L×0.2%) L=cutting length
Wire Feeding Method: iron wheel or rubber wheel
Wheel Function: no
Jumper Conduit Features: no
Program Memory Function: up to 100 groups of programs can be saved
Working Voltage: 220V 50/60Hz
Net Weight: 20kg
Dimensions: 400*380*270mm
Note:
In the case of extremely hard, tough wires, processing may not be possible even within the cross section range. In case of doubt, KINGSING will be happy to provide processing samples of your wires.

Conforms to the relevant CE directives on machine safety and electromagnetic compatibility.