KS-T201 is one of our newest wire processing equipment, the wire cross section range extends from 0.3mm2 to 6.0mm2. With the touch screen,keyboard and mouse, the KS-T201 can be oper­ated in a time-saving and ergonomic fashion.

No matter what products you manufacture on the KS-T201, this machine's intuitive operations allow you to make full use of its flexibility. The die set changing and wire changing are easy and quick through touch screen. All product data are saved in a database and can be retrieved at any time.

Crimp height can be set in program directly, there is no need to adjust any screws to modify the crimping height. Crimp force monitor is integrated in the machine, the processes are constantly checked against the specified values during production.

The waterproof sealing function is optional, we can add the sealing function on one or both ends.

This machine adopts FP2 RTX internet bus system, the operation interface is simple and easy to understand, all parameters can be easily set and accessed.

The belt feeding system and the conveyor device ensure that the surface of the wire is free from damage and the wire feeding accuracy is high.

With the QR code scanning code gun, a two-dimensional code can be attached to each set of molds, and the processing parameters can be directly read after scanning the code.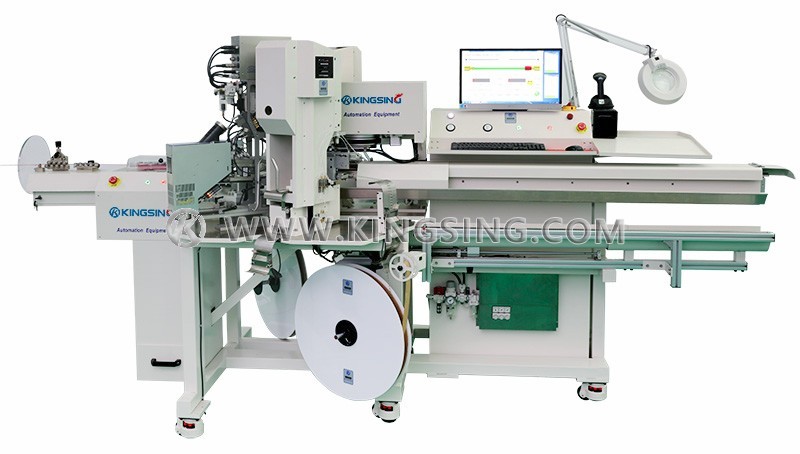 AvailableWire Gauge: 0.3 ~ 6 mm2
WireCutting Length: 60mm ~ 10000mm
WireStripping Length: 0.1 ~ 18mm
FeedingSpeed: Max. 8.0 m/s
CrimpingForce: 3.0Ton
CrimpingMachine Stroke: adjustable
SuitableDie Set: 30mm or 40mm stroke both available
Speed:4500~5000 pcs/hour (depend on wire cutting length)
WireCollecting: 2m~4m (can be customized)
AirPressure: 0.5 ~ 0.7MPa, 8m3/h
StrippingAccuracy:± (0.002mm×Stripping Length)
CuttingAccuracy:± (0.002mm× CuttingLength)
PowerSupply: 220V/50Hz 110V/60Hz
PowerRating: 1800W
NetWeight: 1100Kg
Dimension:3500 × 1200 × 1700mm