This machine is specially designed for processing round sheathed wires, and supports stripping the outer sheath and core wire at the same time. The special blade holder design supports the installation of 2 sets of blades at the same time. The outer sheath is stripped with a round blade, and the core wire is stripped with a flat blade. It is especially suitable for processing sheath wires with less than 3 cores and an outer diameter of less than 6mm. The core wire supports Full and half stripped. The outlet wheel has the function of automatic pulley. When stripping the wire head, the outlet wheel can be lifted up automatically to reduce the resistance of the wire stripping. The maximum stripping length of the wire head can reach 120mm.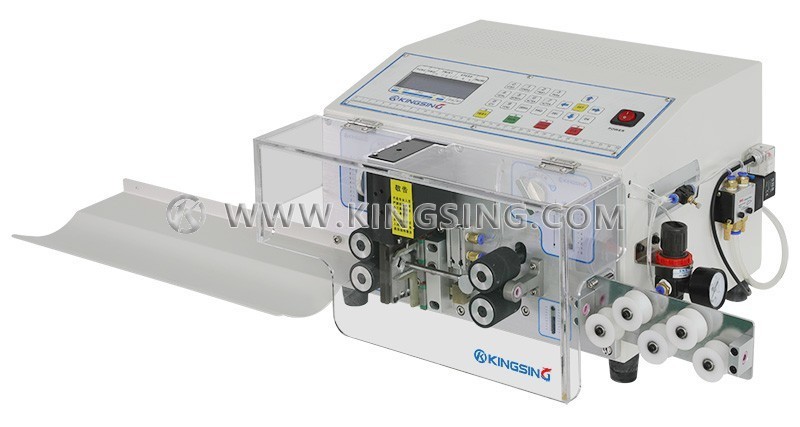 Maximum wire diameter: Φ6.5
Number of core wires: ≤6 cores
Maximum catheter diameter: Φ8mm
Cutting length range: 0~100m
Cutting length accuracy: ±0.002×L (L means cutting length)
Outer sheath stripping length: wire head 0~120mm, wire tail 0~35mm
Core wire stripping length: wire head 0~30mm, wire tail 0~15mm
Program memory function: up to 100 groups of programs can be saved
Working voltage: 220V/50Hz
Rated power: 430W
Air pressure: 0.4~0.6Mpa
Net weight: 35kg
Dimensions: 400x410x280mm
Note:
In the case of extremely hard, tough wires, processing may not be possible even within the cross section range. In case of doubt, KINGSING will be happy to provide processing samples of your wires.

Conforms to the relevant CE directives on machine safety and electromagnetic compatibility.