KS-T501is a basic type of single wire cutting, stripping and crimping machine,
it is designed relatively compact and lightweight, easy to transport. It delivers anextraordinarily wide range of applications, simple handling and increased productivity.
Moreover, its affordable price also makes KS-T501 a popularcrimping machine. With reliable and mature technology, plus its compact moduledesigning, the processing speed is around 5000 pcs per hour.
This machinereleased manual work completely and ensured a high level product quality.
The cutting length, stripping length, crimping force are controlled by a stablesystem, all of the parameter setting are saved in LCD touch screen, very convenient to operate.

Side-feeding die and straight-feeding die are bothavailable for processing.

If you have special die set, we can change themachine to fit your die (for example: JST, Molex, AMP and other brand die setare both customizable).
All of its wearing parts are of top quality, highprecision and durable.
In addition, we can add protection cover for thismachine as customers' requirements.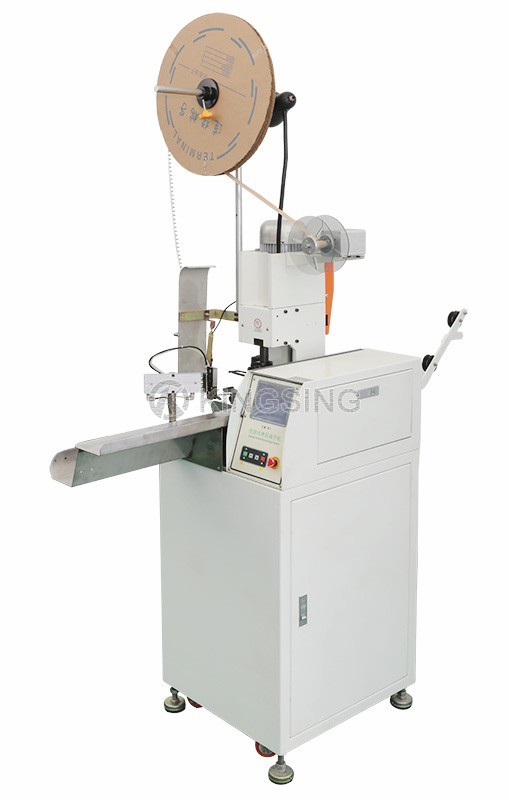 AvailableWire Gauge: 0.05 ~ 0.8 mm2 (AWG18 ~ AWG30)

CuttingLength: 38mm ~ 1500mm (longer than 800mm, suggest to install aconveyor belt)
StrippingLength: 0 ~ 30mm
StrippingAccuracy:± (0.002mm×Stripping Length)
CuttingAccuracy:± (0.002mm× CuttingLength)
CrimpingForce: 2.0Ton
Stroke:30mm (40mm is customizable)
Display:5.7" Touch Screen
Speed:3000 ~ 5000 pcs/hour
AirPressure: 0.5MPa - 0.6MPa
PowerSupply: 220V/50Hz 110V/60Hz
PowerRating: 550W
NetWeight: 140Kg
Dimension:600 × 500 × 1790 mm