This is an automatic telfon tape wrapping machine, the operator only need to put the screw thread into the working position, then it will automatically wrap the teflon tape. One machine can be used for a variety of products with different diameters, and the adjustment is simple.
We recommend using our boxed raw ptfe tapes, which are specially developed for this machine and can guarantee stable work. The raw material purchased in the market cannot be directly used in this machine. If you have to use your own raw material, we can customize an additional raw material installer unit according to your tape size.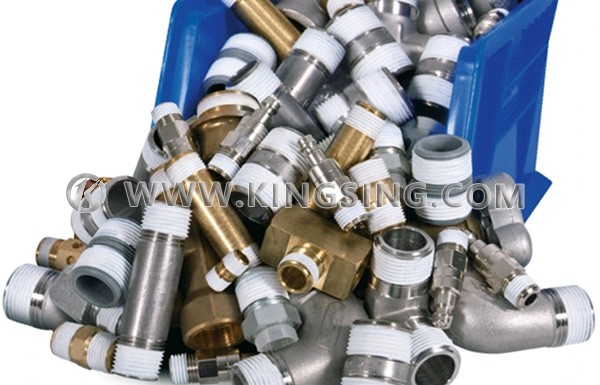 Color touch screen operation interface, intuitive and easy-to-understand parameter settings; High-speed servo motor, each cycle time is only about 3 seconds, which can greatly save labor.
When the product is single and the output requirements are very high, the optional vibrating plate feeding system can be selected, it is usually suitable for smaller parts. The feeding system is customized according to your samples, one machine is only suitable for one product.

Model
KS-A560-1
KS-A560-2
Available Size Range
1/8" ~ 1.5"
1/8" ~ 2.5"
Tape Width Range

5~14mm
Circle Time
6~7s/pc
3~5s/pc
Air Source
0.5~0.8Mpa
Power Supply
220V 50/60Hz
Net. Weight
55kg
60kg
Dimension
350×420×510mm
400×450×590mm
PTFE Tape Consumables:
Model
KS-5D
KS-7D
KS-10D
KS-14D
Tape Width
5±0.5mm
7±0.5mm
10±0.5mm
14±0.5mm
Tape Length
35m
50m
60m
60m
Thickness
0.1±0.02mm
Density

1.2±0.1g/cm3
Tensile Strength
≥6Mpa
Break Elongation
≥50%
Ingredient

100% PTFE
Standard
QB/T 4008-2010
Note: Conforms to the relevant CE directives on machine safety and electromagnetic compatibility.