This series is a high-end industrial control network type terminal crimping machine, including 2 sub-models (see technical parameters for details). Industrial computer control, Windows operating system, support network connection and MES system. A barcode scanner is optional to connect with the management system. The database can record each crimping data to realize quality tracking management. A terminal pressure monitor can be selected, which supports wall-mounted or floor-mounted pressure sensors, and can automatically alarm when the pressure is abnormal.
The whole machine has precise workmanship and strong rigidity, and the crimping accuracy can reach 0.03mm. The crimping motor adopts frequency conversion motor, and the bottom plate lifts using high-precision servo motor. The crimping height can be set directly in the program without adjusting any screws. The unique bottom plate lifting mechanism of this series can ensure higher crimping stability. The crimping motor always rotates a full circle. Compared with the press stroke, this method has higher accuracy and consistency.
The default crimping stroke is 30mm, and the standard OTP bayonet mold is used to support quick mold replacement. In addition, models with a stroke of 40mm can also be customized to support the use of European molds and other special molds. It can crimp all kinds of cross-feed terminals, direct-feed terminals, U-shaped terminals, flag-shaped terminals, double-tape terminals, tubular insulated terminals, bulk terminals, etc. When crimping different terminals, you only need to replace the corresponding crimping dies. . The program memory function can save the crimping data of different terminals in different programs, and the corresponding crimping parameters can be called out with one key when changing the mold.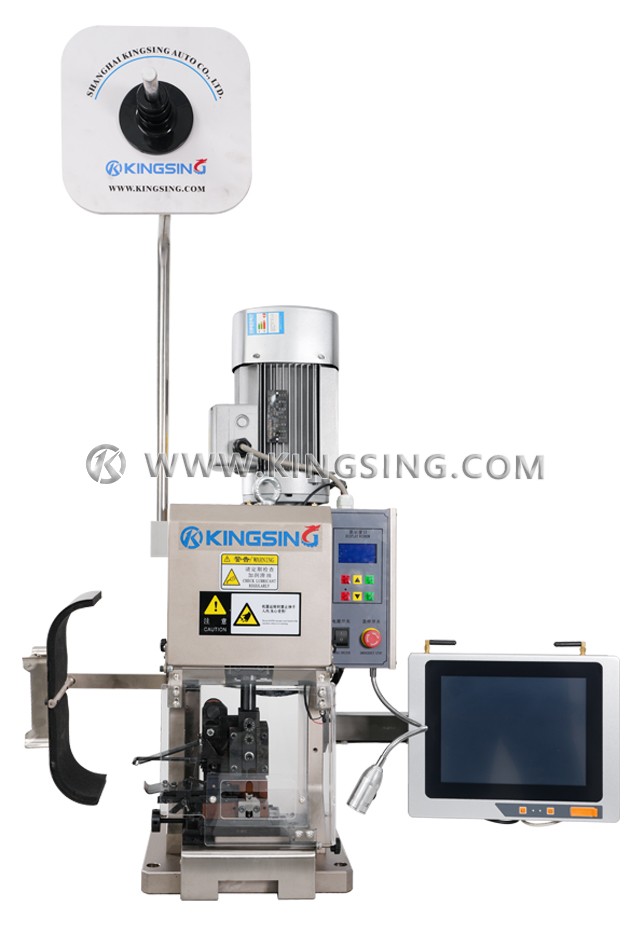 Model
KS-T5204C
KS-T5208C
Max Pressure
4T
8T
Motor Power
1500W
3000W
Applicable Wire Diameter
0~8mm2
0~16mm2
Crimp stroke
30mm or 40mm optional
Closed Height
119.7mm(30mm stroke) / 135.78mm(40mm stroke)
Hight adjustable range
±2mm
±3mm
Net Weight
130kg
240kg
Dimension
360*700*840mm
450*750*1010mm
Optional functions: terminal pressure monitor, code scanning gun
Voltage: 220V 50/60Hz
Note:
In the case of extremely hard, tough wires, processing may not be possible even within the cross section range. In case of doubt, KINGSING will be happy to provide processing samples of your wires.

Conforms to the relevant CE directives on machine safety and electromagnetic compatibility.