This series is a servo-type copper tape crimping machine, driven by a servo motor, with high crimping precision, specially designed for processing high-end precision wire rods, and there are 2 sub-models to choose from (see technical parameters for details). The modular crimping fixture is easy to replace. One machine can crimp a variety of products of different sizes, and only need to replace the corresponding crimping die. The width of the copper tape is available in various specifications, commonly used are 1mm, 2mm, 4mm, 6mm, 8mm, etc. The whole machine has strong rigidity and can be equipped with a pressure monitoring system. When the pressure is abnormal, it will automatically alarm and stop.

It uses copper tape splicing wire, which is often used for the butt connection of wires and wires and the butt connection of wires and electronic components. The cost of splicing wires with copper tapes is lower than that of traditional crimping terminals or soldering. The cutting, forming, and crimping of copper tapes are completed at one time, and no waste is generated during the splicing process. Strong pulling force and stable quality.

Color touch screen operation interface, feeding length, crimping height and other parameters can be set in the program, to adjust the pressure only need to modify the corresponding parameters, no need to manually adjust the screw. With the program memory function, the corresponding parameters can be called out with one key after changing the mold or switching products, saving debugging time.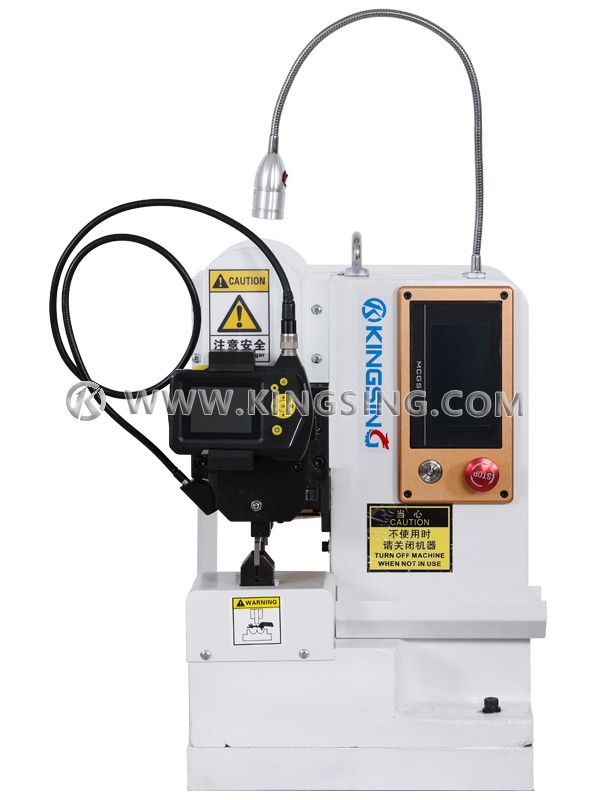 Model
KS-T925S

KS-T925

M
Max Pressure
2T
3T
Motor Power
750W
1000W
Applicable Wire Diameter
0.1~4mm2

0.1~8mm2
Copper Tape Width
1~6mm
2~8mm
Net Weight
60kg
70kg
Dimensions

340*360*450mm
340*360*450mm
Crimping accuracy: ±0.05mm
Operation interface: color touch screen
Start mode: foot switch
Motor Type: Servo Motor
Voltage: 220V 50/60Hz (110V can be customized)
Optional features: pressure monitor, electron microscope, workbench with swivel casters