This is a high-precision full-servo double-sided automatic crimping machine, which integrates functions such as wire cutting, stripping, and double-headed terminal punching. This machine is equipped with an automatic wire feeding machine, which can maintain constant tension and ensure the stability of wire feeding. At the same time, the belt wire feeding mechanism is used to replace the traditional roller wire feeding. The belt pulley greatly increases the contact area with the wire, which is not only conducive to improving the accuracy of wire feeding, but also beneficial to protecting the wire. There is no indentation on the surface of the wire sheath. The built-in 3-meter conveyor belt can put the processed wire straight and neatly into the receiving tray. This machine can meet the processing requirements of various high-end wire rods.

The whole machine is precise in workmanship, using Japanese THK modules, SMC cylinders, Omron sensors, and Mitsubishi servo motors. The moving parts such as wire feeding, stripping, rotation, and terminal crimping are all driven by servo motors, and the crimping height can be set directly in the program. The built-in pressure monitor can monitor the pressure curve changes of each crimping process in real time, and automatically alarm and stop when the pressure is abnormal. The built-in CCD dual-lens visual inspection system adopts the lens imported from Germany, which can detect the effect of wire stripping and terminal crimping to ensure the quality of the finished wire. Defective products can be cut off automatically.

Adopting the concept of flexible design, one machine can process a variety of different products. When replacing wires and terminals, you only need to replace the corresponding crimping dies and wire inlet conduits. Each functional module can be opened and closed freely in the program. Two stations for inserting waterproof plugs are reserved on the machine platform, and the function of inserting waterproof plugs on one side or both sides can be selected as an option.

Computer industrial control system, Windows operation interface, supports network connection, and can be connected with MES system through LAN. The program memory function can save the processing parameters of different products in the database, and the corresponding processing parameters can be called out with one key when switching products. The machine is also equipped with a lifting safety shield, which is not only convenient for technicians to debug the equipment, but also ensures safe operation.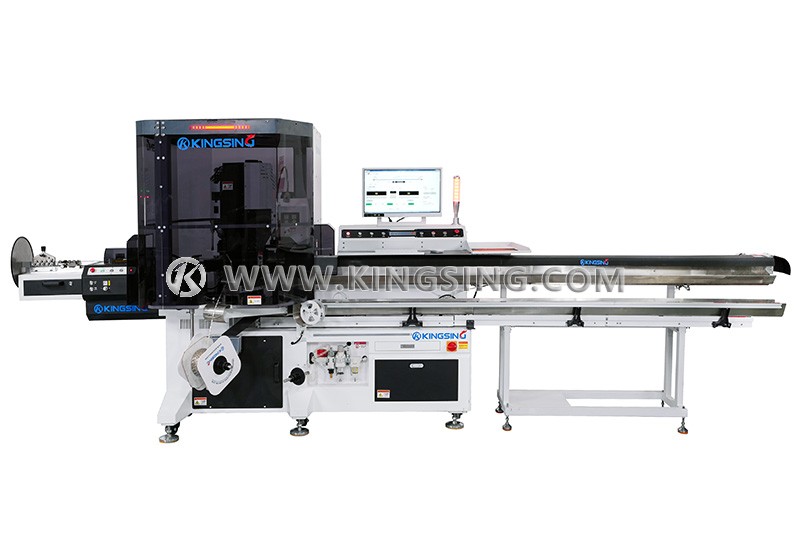 Applicable wire diameter: AWG26~12 (0.2~4.0mm2)
Wire feeding method: belt feeding
Cutting length: 60~9999mm
Conveyor belt length: 3 meters (can receive 3.5 meters wire)
Cutting accuracy: ±(0.5+L*2‰) L=cutting length
Stripping length: ≤15mm
Applicable terminals: cross-feed terminal, direct-feed terminal, flag terminal
Terminal machine pressure: 3T
Crimping Motor: Servo Motor
Crimp stroke: 30mm (40mm stroke can be customized)
Production efficiency: 3000~4000 pieces/hour
Operation interface: computer industrial control, Windows system
Air pressure: 0.5~0.7Mpa
Working voltage: 220V 50/60Hz
Net weight: 1000kg
Dimensions: 5800*1630*1980mm
Safety measures: lifting safety shield, three-color alarm light
Detection device: pressure monitor, CCD visual detection system, presence or absence of terminals, wire knotting, lack of wire alarm, air pressure detection, etc.
Optional configuration: automatic insertion of waterproof plug function
Note:
In the case of extremely hard, tough wires, processing may not be possible even within the cross section range. In case of doubt, KINGSING will be happy to provide processing samples of your wires.

Conforms to the relevant CE directives on machine safety and electromagnetic compatibility.