This is a double-sided automatic crimping machine with wire twisting function, which integrates functions such as wire cutting, wire stripping, crimping terminals, and wire stranding. It can automatically twist 2 or more wires together to form a twisted wire. The twist length can be set in the program. This machine can process two groups of wires at the same time, for example, feed 4 wires at the same time, and each 2 wires are automatically twisted together as a group, which has high production efficiency. When processing long wires, a conveyor belt can be selected, and the processed wires can be placed straight and neatly into the receiving tray.

The workmanship of this machine is precise, the moving parts are controlled by Mitsubishi servo motor, and the terminal machine is integrally formed with ductile iron, which has strong rigidity and stable crimping height. A terminal pressure monitor can be selected to monitor the pressure curve changes of each crimping process in real time, and automatically alarm and stop when the pressure is abnormal. This machine adopts the method of pulling the wire by the wire clip instead of the traditional roller wire feeding, the cutting wire length is accurate, and there is no indentation on the wire surface. The maximum cutting wire length can be customized according to demand.

Adopting the concept of flexible design, one machine can process a variety of different products, and only need to replace the corresponding fixture when replacing wires and terminals. Each functional module can be opened or closed freely in the program, for example, the twisted wire function can be turned off, and the machine can be used as a high-speed double-head automatic terminal machine. The program memory function can save the processing parameters of different products in the database. When switching products, the corresponding processing parameters can be called out with one key, saving debugging time.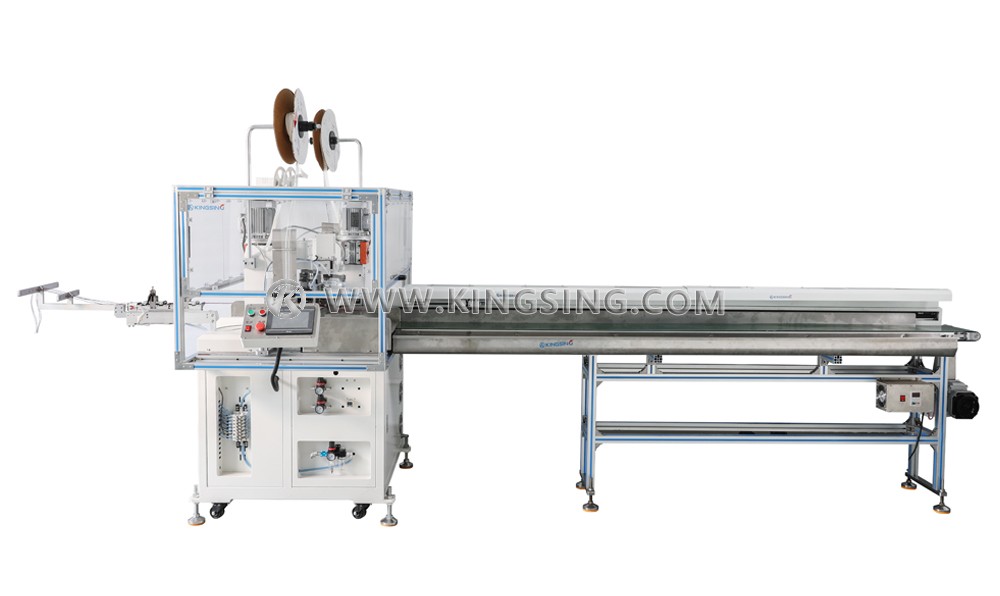 Applicable wire diameter: 0.1~1.5mm2 (AWG16~30)
Cutting line length: 40~890mm (can be customized)
Stripping length: ≤8mm
Cutting tolerance: ±(0.5+L*2‰)mm L=cutting length
Maximum pressure: 2.5T
Crimp stroke: 30mm (40mm stroke can be customized)
Applicable terminal: horizontal feed terminal, straight feed terminal
Production efficiency: 1500~2000 pieces/hour (including stranded wire, processing 2 groups at the same time)
Operation interface: color touch screen
Air pressure: 0.5~0.7Mpa
Working voltage: 220V 50/60Hz
Net weight: 500kg
Dimensions: 1500*1080*1650mm
Note:
In the case of extremely hard, tough wires, processing may not be possible even within the cross section range. In case of doubt, KINGSING will be happy to provide processing samples of your wires.

Conforms to the relevant CE directives on machine safety and electromagnetic compatibility.