This machine is specially designed for processing wires. It integrates the functions of cutting, stripping, splitting, and crimping terminals. It can process arrangement wires up to 24Pin. This machine is also suitable for processing ordinary electronic wires, and can process up to 12 electronic wires at the same time, which greatly improves the production efficiency. Arranging the splitting wire length of the wire can be set in the program, and the software also supports the skipping function, which can skip one or more wires without Crimping terminals.

The workmanship of the whole machine is precise, and it contains a total of 6 sets of servo motors. Mechanisms such as wire pulling, wire stripping, and translation are all driven by high-precision servo motors. The length of the cutting wire is precise, and the position of the crimping terminal can be finely controlled. The special arranging wire crimping mold can automatically separate and straighten each wire. The terminal crimping machine has strong rigidity and stable crimping height. The terminal crimping monitor can be selected to monitor the pressure curve change of each crimping process in real time, and automatically alarm and stop when the pressure is abnormal.

Adopting the concept of modular flexible design, one machine can process many different products, and each functional module can be opened or closed freely in the program. When replacing the wire, it is only necessary to replace the corresponding crimping die and wire splitting fixture. The machine has a wide range of uses. After the current product is produced, it will not cause idle waste of the machine, and it can be easily switched to produce other products. The color touch screen operation interface, the program memory function can save the processing parameters of different products in the database, and can call out the corresponding processing parameters with one key when switching products, saving debugging time.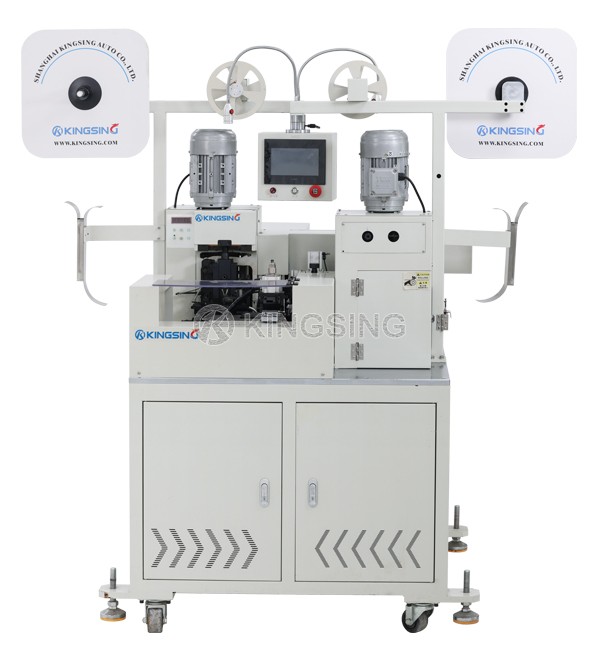 Applicable wire: cable within 24Pin, double combination wire, electronic wire
Applicable wire diameter: 0.1~1.0mm2 (AWG28~18)
The maximum width of the cable: 28mm
Cutting length: 50~1000mm (can be customized)
Stripping length: ≤8mm
Cutting tolerance: ±(0.5+L*2‰)mm L=cutting length
Terminal machine pressure: 2T
Crimp stroke: 30mm (40mm stroke can be customized)
Applicable terminal: cross feed terminal
Cable production efficiency: 700~900 pieces/hour (narrower cables can also be processed at the same time 2 or more)
Production efficiency of electronic wires: 6000~10000 pieces/hour (the efficiency of processing 10 pieces at the same time)
Operation interface: color touch screen
Air pressure: 0.5~0.7Mpa
Working voltage: 220V 50/60Hz
Net weight: 500kg
Dimensions: 1920*1520*1750mm