This is a pure electric servo type wire stripping and crimping terminal machine. The crimping motor adopts high-precision Mitsubishi servo motor, which has high speed and high precision. It can work when plugged in and does not require an air source. It is suitable for crimping various cross-feed terminals. After the wire end is placed in the crimping position, the machine will automatically strip the wire first and then crimp the terminal. The process of stripping and crimping the terminal is combined. Together, labor costs can be effectively reduced, and product consistency can also be improved. It is especially suitable for stripping and crimping terminals of sheathed core wires.

One machine can crimp a variety of cross-feed terminals, just replace the corresponding crimping blades, and the crimping height and crimping depth are easy to adjust. The crimping die of this machine can be replaced quickly, and the crimping die can also be replaced directly when crimping various terminals, which is more efficient and saves debugging time.

This machine replaces all the cylinders with electric motors, and the adjustment is easier. Color touch screen operation interface, parameters such as cutter depth, stripping length, clamping force, crimping position, etc. can be set directly on the touch screen without mechanical adjustment, which greatly simplifies the debugging work when one machine crimps multiple terminals.

The terminal backing paper is automatically recovered by the paper reel, and the automatic blowing and suction device is equipped next to the wire stripping blade, which can blow away the waste wire sheath, and always keep the working position clean. The air source is automatically generated by the machine without external air compressor.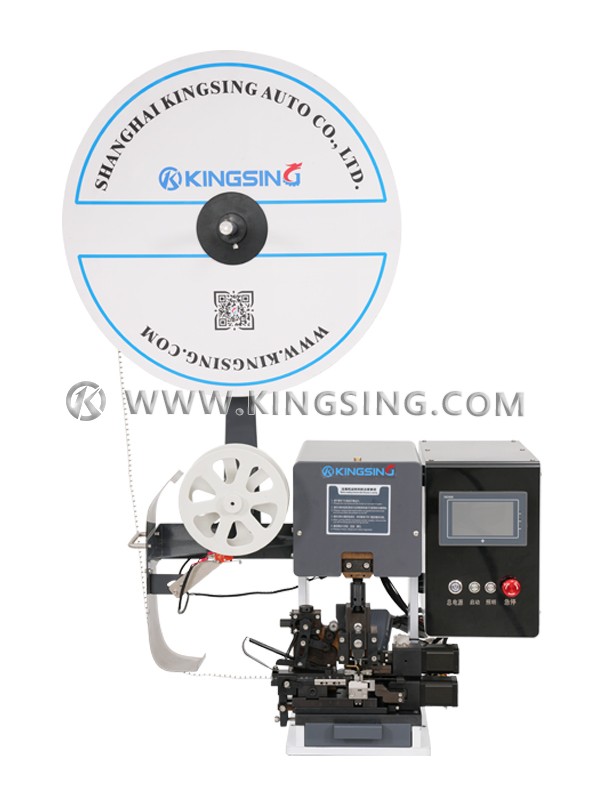 Applicable wire diameter: AWG16~32
Stripping length: 1~10mm
Tolerance: 0.05~0.1mm
Terminal machine output: 2.0T
Mold stroke: 30mm
Opening height: 215mm
Applicable terminal: cross feed terminal
Crimp motor: Mitsubishi servo motor
Production efficiency: 1000~2000 pieces/hour
Working voltage: 200~240V 50/60Hz
Rated power: 750W
Net weight: 70kg
Dimensions: 500*500*550mm
Optional features:
1.Wire end cutting: Automatically cut the wire ends, the stripping length is more accurate, and the error of manual unwinding is eliminated.
2.Inductive start: Inductive start is used instead of foot switch start, and it starts automatically after the wire is put in place.
3.Two-wire crimping: designed for 2-core sheathed wires, some small terminals can crimp two terminals at one time.
4.Special terminals: such as double strip terminals, terminals with strips in the middle, etc. can be customized by non-standard.
5.Pressure monitoring: monitor the pressure curve of each crimping process in real time, and automatically alarm when the pressure is abnormal.
Note:
In the case of extremely hard, tough wires, processing may not be possible even within the cross section range. In case of doubt, KINGSING will be happy to provide processing samples of your wires.

Conforms to the relevant CE directives on machine safety and electromagnetic compatibility.