This machine is specially designed for crimping terminals of flat cables and FFC flexible cables, and there are 2 sub-models to choose from (see technical parameters for details). The operator only needs to put the wire head into the positioning jig, and the machine can automatically send the wire to the crimping terminal position and crimp the terminals one by one. One machine can process a variety of different products, only need to replace the corresponding crimping mold and positioning fixture, the crimping mold adopts standard OTP bayonet, it is convenient and quick to replace the mold.

The workmanship of the whole machine is precise, using SMC cylinder, Taiwan silver wire rod, Taiwan TBI guide rail, Omron sensor, XY translation mechanism is driven by servo motor, and the positioning is accurate. The terminal machine is integrally formed of ductile iron, with strong rigidity, stable and reliable crimping height, and a built-in terminal material shortage sensor. In addition, a terminal pressure monitor can be selected to monitor the pressure curve change of each crimping process in real time. When the pressure is abnormal, it will automatically Alarm shutdown. The machine is also equipped with a safety shield, an emergency stop button, and a three-color alarm light, and the red light will light up when an abnormality occurs.

Color touch screen operation interface, the position of the wire, the position of the crimping terminal, and the number of wire pins can be directly set in the program. It supports the function of skip crimping, which can skip the specified core wire without crimping the terminal. (For example, the 10Pin wire can realize the 3rd and 5th non-crimped terminals, and the remaining 8 wires are all crimped terminals). The program memory function can save the processing parameters of different wires in the database, and when switching products, the corresponding processing parameters can be called out with one key, saving debugging time.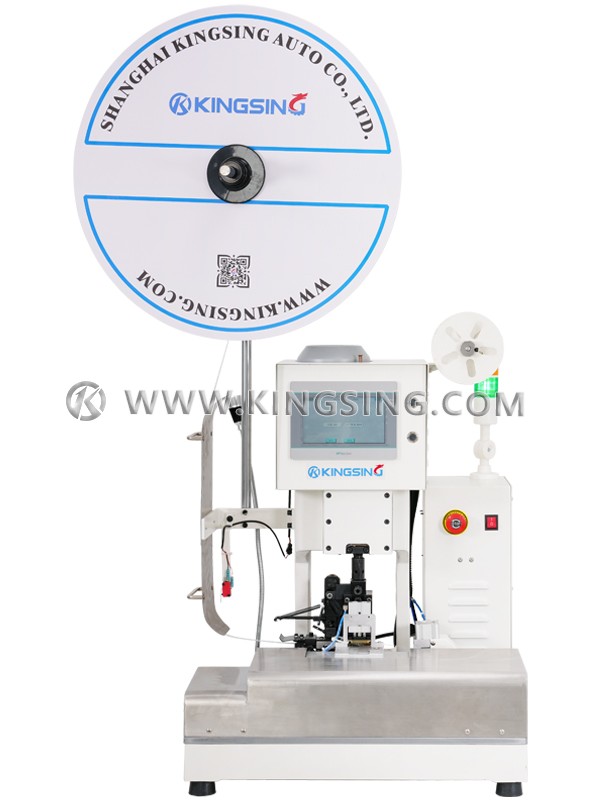 | | | |
| --- | --- | --- |
| Model | KS-T5583 | KS-T5584 |
| Applicable wire | FFC flexible cable | Flat cable, multi-core wire |
| Crimp die | FFC piercing die | Flat cable splitting mold |
Flat cable maximum width: 90mm
Programming pitch: 1.27~5.08mm
Terminal machine output: 2T
Crimping stroke: 30mm (40mm stroke model can be customized)
Operation interface: 7-inch color touch screen
Air pressure: 0.4~0.6Mpa
Working voltage: 220V 50/60Hz
Net weight: 100kg
Dimensions: 600*600*870mm
Note:
In the case of extremely hard, tough wires, processing may not be possible even within the cross section range. In case of doubt, KINGSING will be happy to provide processing samples of your wires.

Conforms to the relevant CE directives on machine safety and electromagnetic compatibility.