This is a membrane switch panel FFC flat cable crimping machine, the crimping stroke of the terminal machine is 10mm. It is specially designed for crimping FFC cable piercing terminals, which is faster than the traditional 30mm stroke terminal machine. The whole machine has precise workmanship and highly stable crimping. It can be equipped with a terminal pressure monitor to monitor the pressure curve changes in each crimping process in real time. When the pressure is abnormal, it will automatically alarm and stop. In addition, a visual inspection system can also be selected to take pictures of the finished products after crimping to ensure product quality.

Color touch screen operation interface, the program is powerful, the crimping position of each point can be independently set in the program XY coordinates. Even if the crimping points of the FFC wire are not in a straight line, the crimping can be completed at one time, and the skip crimping function is also supported, such as skipping certain positions and not crimping terminals. One machine can process a variety of different products. When replacing the terminal, you only need to replace the corresponding crimping die. The die adopts a bayonet design to support quick replacement.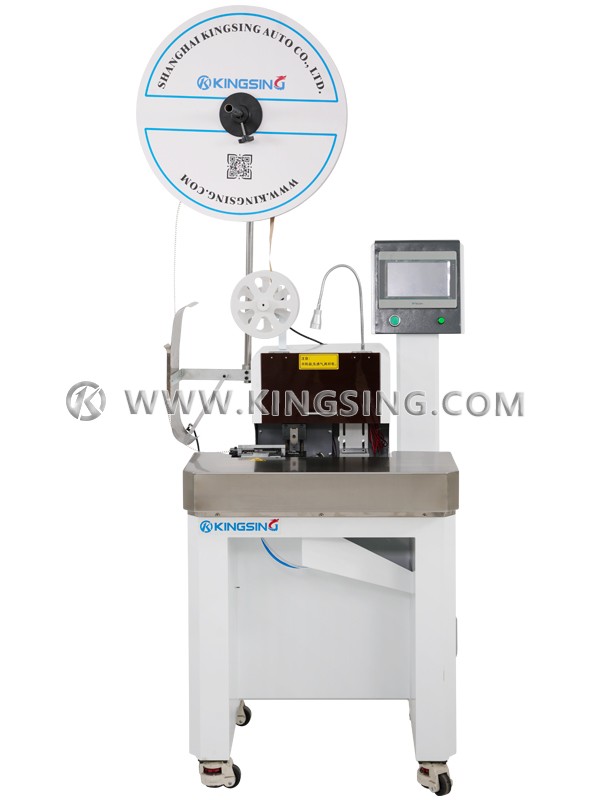 Applicable wire: FFC flat cable, membrane switch flat cable
Flat cable maximum width: 80mm
Terminal machine output: 1.5T
Crimp stroke: 10mm
Operation interface: 7-inch color touch screen
Air pressure: 0.4~0.6Mpa
Working voltage: 220V 50/60Hz
Net weight: 115kg
Dimensions: 660*490*1340mm
Optional configuration: terminal pressure monitor, visual inspection system
Note:
In the case of extremely hard, tough wires, processing may not be possible even within the cross section range. In case of doubt, KINGSING will be happy to provide processing samples of your wires.

Conforms to the relevant CE directives on machine safety and electromagnetic compatibility.