This is an FFC flexible cable terminal machine. The operator only needs to put the flat cable into the positioning fixture, and the machine can automatically send the wire to the terminal position and crimp the terminal. Color touch screen operation interface, the pin number of the cable and the position of the crimping terminal can be set in the program. One machine can process a variety of different products, and the crimping mold adopts a standard OTP bayonet, so it is convenient and quick to change the mold.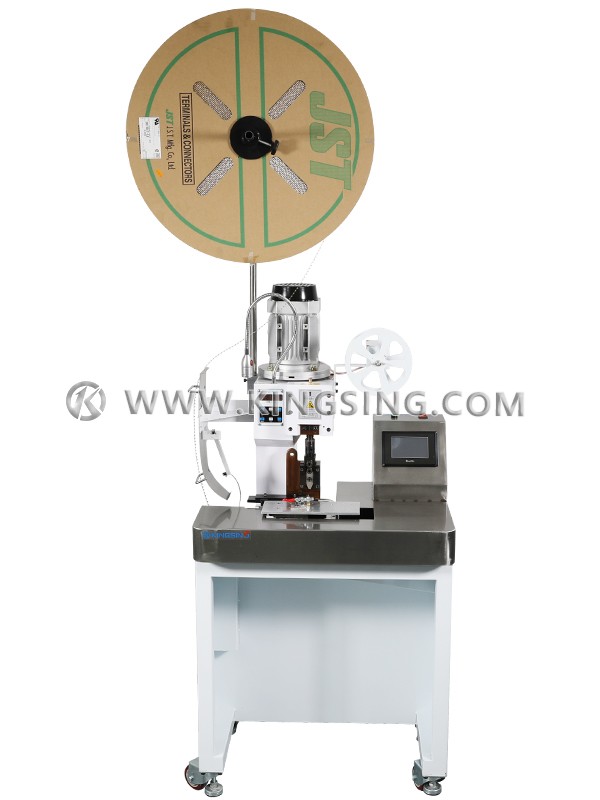 Applicable wire: FFC flat cable, membrane switch panel
Pitch type: 1.27mm, 2.54mm, 5.08mm
Crimp times: up to 30Pin (depending on the pitch type)
Terminal machine output: 1.5T
Crimp stroke: 30mm
Operation interface: color touch screen
Air pressure: 0.4~0.6Mpa
Working voltage: 220V 50/60Hz
Net weight: 115kg
Dimensions: 660*470*1400mm
Note:
In the case of extremely hard, tough wires, processing may not be possible even within the cross section range. In case of doubt, KINGSING will be happy to provide processing samples of your wires.

Conforms to the relevant CE directives on machine safety and electromagnetic compatibility.