This is a semi-automatic flat cable crimping machine, which is suitable for processing 2~40Pin flat cables. Before using this machine, the flat cables need to be pre-stripped and separated, and then the operator only needs to manually put the cable head into the processing position. It can be activated by sensor inductively or by stepping on the foot switch. The special flat cable crimping mold can sort out the cables one by one and crimp the terminals, and the operation is stable. The workmanship of the whole machine is precise, and the translation mechanism is driven by a high-precision servo motor for precise positioning.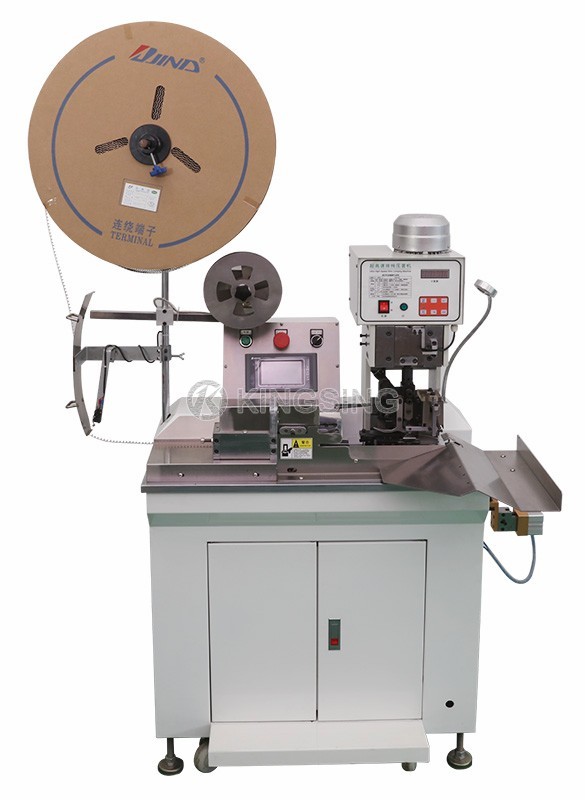 Applicable wire: flat cable, double cable, multi-core flat sheathed cable
Number of core wires: 2~40Pin
Applicable wire diameter: AWG28~18 (0.1~1.0mm2)
Core cable outer diameter: Φ0.6~3.3mm
Splitting cable length requirement: 25~35mm or 20~25mm optional
Minimum cable length: 65mm
Applicable terminal type: cross feed terminal
Terminal machine output: 1.5T
Crimp stroke: 30mm
Start mode: sensor start, foot switch start
Production efficiency: 1000~2000 pieces/hour
Operation interface: color touch screen
Air pressure: 0.4~0.6Mpa
Working voltage: 220V 50/60Hz
Net weight: 170kg
Dimensions: 780*440*1300mm
Note:
In the case of extremely hard, tough wires, processing may not be possible even within the cross section range. In case of doubt, KINGSING will be happy to provide processing samples of your wires.

Conforms to the relevant CE directives on machine safety and electromagnetic compatibility.