This is a fully automatic wire cutting, stripping and bending machine, which is specially designed for processing BV hard wires, and can process wires up to 16mm2. This machine uses 4 wire feeding wheels to feed the wire, which increases the contact area between the wire feeding wheel and the wire, which can prevent the wire from slipping between the wire feeding wheels and provide strong stripping power.

The unique design of the rear stripping clamp enables the machine to support wire tail stripping. After the wire is bent, the rear stripping clamp sends the wire back to the blade holder for wire tail stripping. This is different from the principle of the bending and stripping machine without the function of the rear stripping clamp. Although some models can strip the tail of the wire without the rear stripping clamp, it will be limited by the length of the wire and the tightness of the wire sheath, and it is Peeled before bending. However, this machine uses the post-stripping clamp to strip the wire after the bending is completed, and is not affected by the length of the wire and the tightness of the wire sheath.

Color touch screen operation interface, parameter setting is intuitive and easy to understand. Parameters such as stripping length, bending angle, and length of each section can be set directly in the program. The program memory function can store up to 200 groups of programs, and the corresponding processing parameters can be called out with one key when processing different wire materials. In addition, it can also be equipped with a computer industrial control system, which supports MES system network dispatching, and supports batch import of processing data from Excel. This system can also be equipped with inkjet printers, code scanners, barcode printers and other equipment.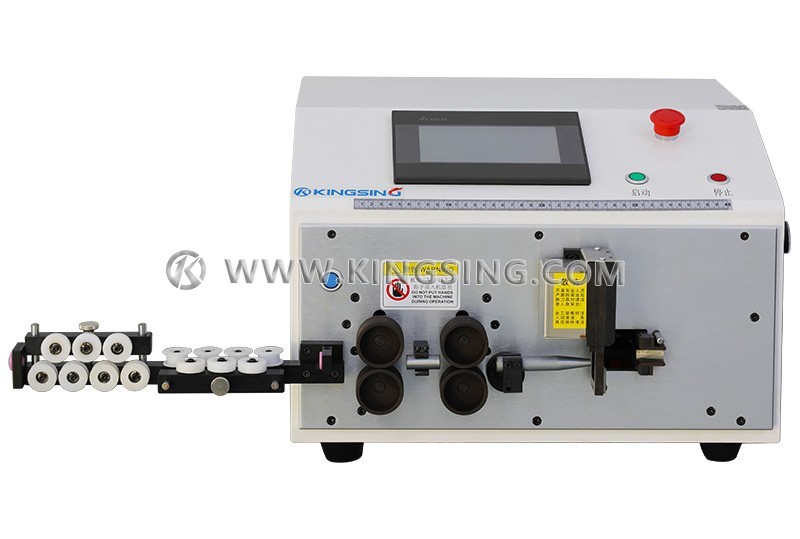 Applicable wire diameter: 1.5~16mm2
Stripping length: 0~50mm
Maximum cutting length: 100 meters
Cutting accuracy: 0.002*L (L=cutting length)
Bending direction: both clockwise and counterclockwise
Maximum number of bending segments: 20 segments
Minimum bending size: 18mm (smaller can be customized)
Production efficiency: 800~1200 pieces/hour
Operation interface: 7-inch color touch screen
Program saving: up to 200 groups of programs can be saved
Working voltage: 220V 50Hz
Rated power: 650W
Air pressure: 0.5~0.7Mpa
Net weight: 63kg
Dimensions: 530*470*340mm
Note:
In the case of extremely hard, tough wires, processing may not be possible even within the cross section range. In case of doubt, KINGSING will be happy to provide processing samples of your wires.

Conforms to the relevant CE directives on machine safety and electromagnetic compatibility.