Simple appearance, easy to move;

Small size, save space;

High quality LCD display screen;

Easy operation and low technical requirements for operators;

Designed by human structural mechanics to reduce fatigue strength;

With 100 sets of program storage function, which is very convenient for operation;

lt has a wide range of applications and can be used to process electric control cabinet jumpers, bending wires of electricity meter box, positive and negative rotation jumpers of contactor andother wires.

Roller jumping function help to reduce the resistance during stripping process and allow max.head stripping length to reach 80mm;

Thanks to the optimized the bending mechanism farther away from the cutter unit, there is less space constraints on the shape to be bent;

The bending rod can rotate clockwise and counterclockwise. The same wire can be bent into positive and negative angles at the same time, and the bending angle can be adjusted at will;

When processing short wire can realize two ends of stripping, processing long wire can only one end of stripping, make a cut at the other end.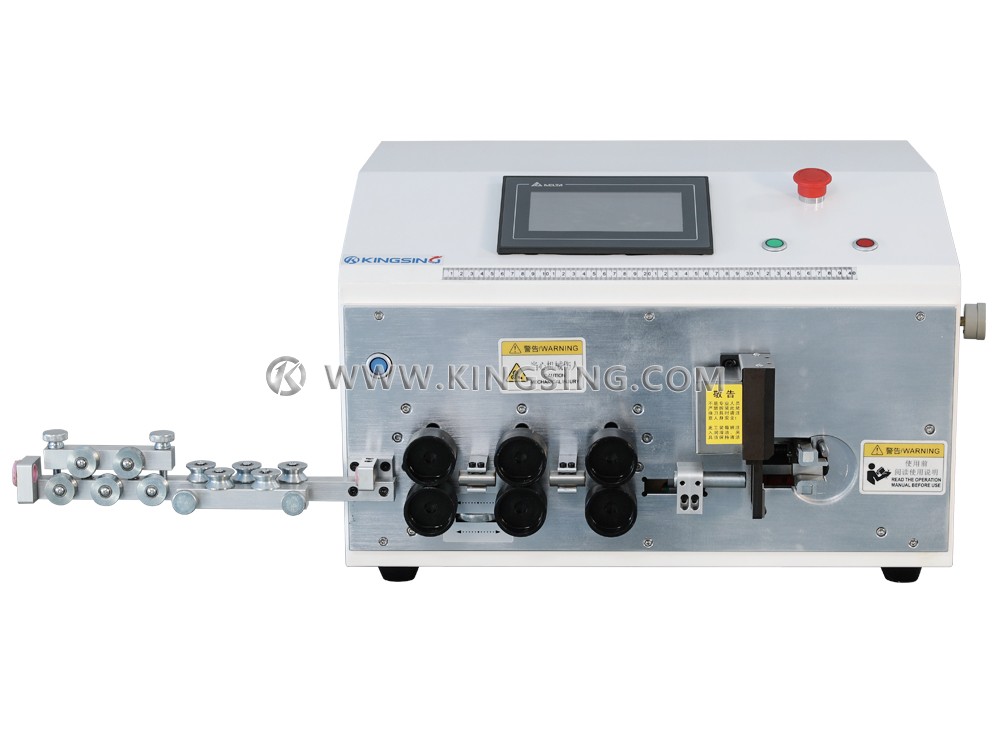 Environment Humidity: 30%~80%RH (No condensation at 40℃)
Operation Temperature: 0~40℃
Wire Size: 0.1~25sqmm
Power Rating: 800W
Drive Mode: Six rollers drive
Bending Segments: Max. 10 segments
Cutting Length: Max. 99999.9mm
Head Stripping Length: 0~80mm
Tail Stripping Length: 0~30mm
Program Storage: Max. 100 sets
Power Supply: AC220V 50/60Hz
Air Pressure: 0.5~0.7Mpa
Net Weight: 55Kg
Dimension(L×W×H): 700×560×450mm
Note:
In the case of extremely hard, tough wires, processing may not be possible even within the cross section range. In case of doubt, KINGSING will be happy to provide processing samples of your wires.

Conforms to the relevant CE directives on machine safety and electromagnetic compatibility.