This machine is specially designed for crimping terminals of core wires of sheathed wires, and supports processing 4 core wires at the same time. Each core wire can be cut to different lengths and then stripped and crimped. There are 3 crimping stations on the platform. Therefore, it supports crimping 3 different terminals, and which terminal to crimp each core wire can be freely selected in the program. For example, the same crimping station can be used to crimp the same terminal for all 4 core wires, or 3 different terminals can be crimped for 4 core wires.

The workmanship of the whole machine is precise, and components such as translation, wire pulling, and wire stripping are all driven by Mitsubishi servo motors. The terminal crimping machine adopts a standard OTP bayonet mold, which is convenient and quick to replace the mold, and supports crimping various cross-feed terminals, direct-feed terminals, and flag-shaped terminals. The terminal machine is integrally formed with nodular cast iron, which has strong rigidity and stable crimping height. It can be equipped with a terminal pressure monitor to monitor the pressure curve changes of each crimping process in real time. When the pressure is abnormal, it will automatically alarm and stop.

Color touch screen operation interface, parameter setting is intuitive and easy to understand, the cutting length, stripping length and crimping terminal position of each core wire can be set independently in the program. The program memory function can save the processing parameters of different wire materials in different program numbers, and the corresponding parameters can be called out with one key when switching products.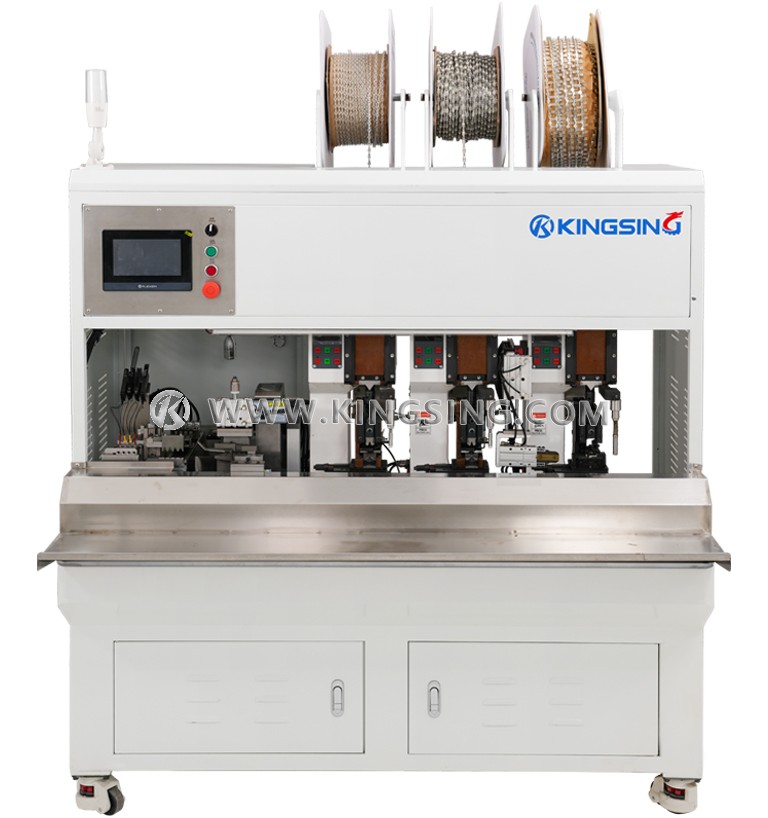 Applicable wire: power wire, multi-core sheathed wire
Number of core wires: ≤4 cores (more than 4 cores can be processed in multiple times)
Applicable wire diameter: AWG28~12 (0.1~4mm2)
Cutting length: 0~200mm
Cutting accuracy: ±(0.5+L*2‰) L=cutting length
Terminal machine output: 3T
Terminal machine station: 3 (support crimping 3 different terminals, more stations can be customized)
Crimping stroke: 30mm (40mm stroke model can be customized)
Applicable terminals: cross-feed terminal, direct-feed terminal, flag terminal
Air pressure requirement: 0.5~0.7Mpa
Working voltage: 220V 50/60Hz
Net weight: 550kg
Dimensions: 1500*970*1700mm