This is a pneumatic-hydraulic hybrid drive terminal crimping machine, which can be divided into 4 sub-models according to the strength (see technical parameters for details). Compared with the traditional hydraulic terminal machine, its speed is greatly improved, and the hydraulic mechanism is only at the end The crimping stage starts to work, and it only takes about 3 seconds to crimp a terminal.

This machine is suitable for crimping 2.5~240mm2 wires, and is widely used in wire harness processing industries such as new energy and electric vehicle charging piles. Support a variety of molds, such as: hexagonal molds, quadrilateral molds, four-point crimping molds, pneumatic feeding molds, B-shaped crimping molds, etc. One machine can crimp a variety of different terminals, just change the corresponding mold.

Color touch screen operation interface, crimping height can be set directly in the program, no need to manually adjust the screw. The built-in high-precision encoder controls the crimping height, and the program supports a variety of cyclic crimping with different crimping heights, and can continuously crimp terminals of different heights. With a program memory function, the crimping parameters of different products can be stored in different program numbers, and the corresponding processing parameters can be called out with one key.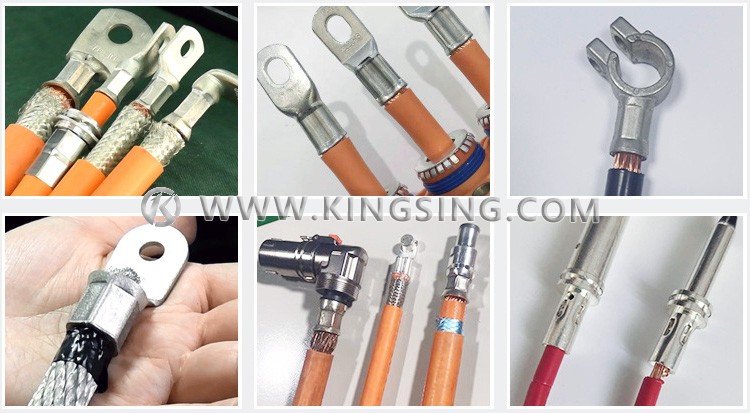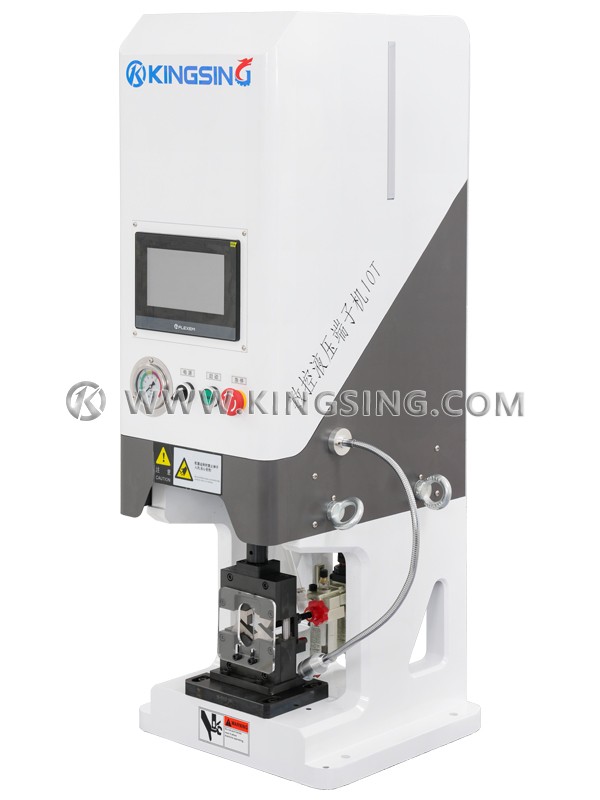 | | | | | |
| --- | --- | --- | --- | --- |
| Model | KS-T630A | KS-T630B | KS-T630C | KS-T630D |
| Max Pressure | 6T | 10T | 20T | 30T |
| Applicable wire diameter | 2.5~35mm2 | 2.5~50mm2 | 2.5~95mm2 | 2.5~180mm2 |
| Crimp stroke | 50mm | 50mm | 100mm | 100mm |
| Net Weight | 165kg | 180kg | 295kg | 320kg |
| Dimensions | 470*390*942mm | 470*390*1022mm | 550*500*1240mm | 550*500*1340mm |
Production efficiency: 800~1500 pieces/hour
Start mode: manual button, foot switch
Operation interface: 7-inch color touch screen
Air pressure: 0.5~0.8Mpa
Voltage: 220V 50/60Hz
Optional functions: code scanning gun, MES system