This machine is specially designed for the riveting of thermal protectors and electric wires. There are 2 sets of independent wire feeding mechanisms on the platform. It supports sending 2 different wires at the same time, and the cutting length of the 2 wires can be set independently, so the lengths of the 2 wires can be different. The thermal protector is automatically fed through the vibrating disc. After the wire is cut and stripped, one end is riveted to the thermal protector, and the other end can be fully stripped or half stripped. One of the wires also supports terminal.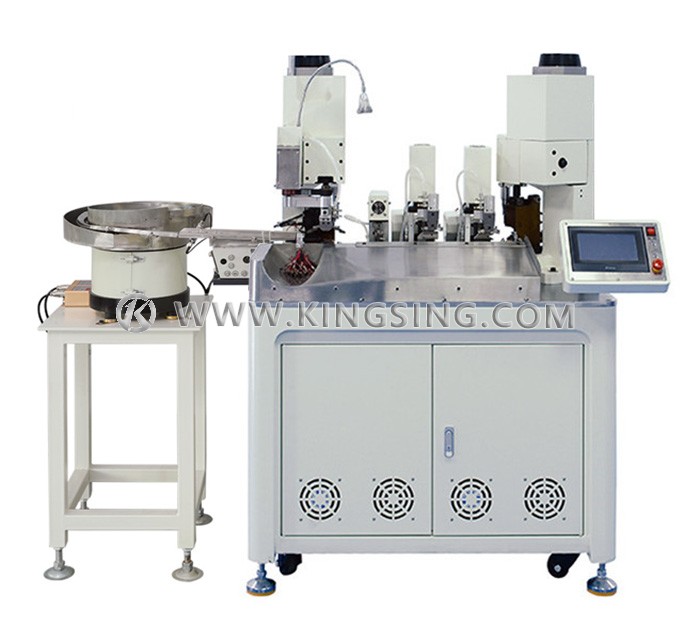 Applicable wire diameter: AWG28~14 (0.1~2.0mm2)
Cutting length: 50~9999mm (can be customized)
Stripping length: ≤10mm (can be customized)
Cutting accuracy: ±(0.5+L*2‰) L=cutting length
Maximum pressure: 2T
Crimping stroke: 30mm (40mm stroke model can be customized)
Production efficiency: 2000~3000 pieces/hour
Operation interface: color touch screen
Air pressure: 0.5~0.8Mpa
Rated power: 2300W
Working voltage: 220V 50/60Hz (110V can be customized)
Net weight: 380kg
Dimensions: 1200*800*2000mm
Note:
In the case of extremely hard, tough wires, processing may not be possible even within the cross section range. In case of doubt, KINGSING will be happy to provide processing samples of your wires.

Conforms to the relevant CE directives on machine safety and electromagnetic compatibility.