This series is a large square servo type wire stripping and crimping machine, which is specially designed for processing thick wires. There are 3 sub-models in total (see technical parameters for details). It is suitable for crimping various cross-feed terminals, and the crimping process is precisely controlled by Mitsubishi servo motor. The wire does not need to be pre-stripped, just put the wire end into the crimping position, and the machine will automatically strip the wire first and then crimp the terminal. Combining the processes of stripping and crimping terminals can effectively reduce labor costs and improve product consistency, especially for stripping and crimping terminals of sheathed core wires.

One machine can crimp a variety of cross-feed terminals, just replace the corresponding crimping blades, and the crimping height and crimping depth are easy to adjust. The crimping die supports quick replacement and saves debugging time. The whole machine has precise workmanship, accurate stripping length, and precise crimping positioning. The waste wire sheath is automatically discharged through the pipeline by vacuum suction, and the terminal backing paper is automatically recycled into rolls through the paper winder, which can keep the working environment clean.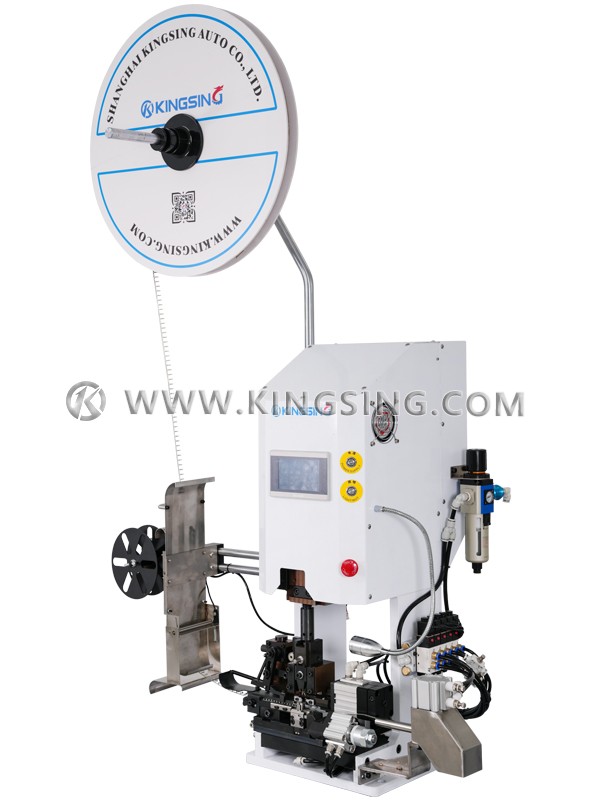 | | | | |
| --- | --- | --- | --- |
| Model | KS-T9034A | KS-T9034B | KS-T9034C |
| Maximum Output | 4T | 8T | 4T |
| Motor Power | | | |
| Applicable Wire Diameter | 0.1~6mm2 | 0.1~10mm2 | 0.1~6mm2 |
| Stripping Method | Pneumatic stripping | Pneumatic stripping | Electric stripping |
| Air Pressure Requirements | 0.5~0.7Mpa | 0.5~0.7Mpa | Pure electric, no air source required |
| Net Weight | | 185kg | |
| Dimension | | 550*500*890mm | |
Applicable terminal: cross feed terminal
Crimping Motor: Servo Motor
Stripping length: ≤8mm
Stripping error: ±0.05mm
Crimp stroke: 30mm
Crimp height tolerance: ±0.02mm
Production efficiency: 1800~2200 pieces/hour
Working voltage: 220V 50/60Hz
Optional configuration: terminal pressure monitor
Note:
In the case of extremely hard, tough wires, processing may not be possible even within the cross section range. In case of doubt, KINGSING will be happy to provide processing samples of your wires.

Conforms to the relevant CE directives on machine safety and electromagnetic compatibility.