The LED lead cutting and forming machine provides a safe and affordable means for basic cutting and bending of radial LED leads,it adopts a vibration plate to feed components automatically, it places minimal mechanical stress or axial tension on the component.The machine's sturdy construction provides maximum reliability and long life.
1. It is suitable for cutting and bending loose Capacitor, Transistor, LED, etc.
2. KS-F160 is adopted linear vibration feeding system. It is suitable for different sizes components.
3. Use special cutting method: the cutting blade is made by Japanese imported material SKD-11. Adopt vacuum hardening treatment HRC600,
with high hardness, rich toughness, durable service, and easy adjustment and operation.
4. The controller is made of Japanese electronic components, with long lifespan. It can feed material very smoothly.
5. High cutting accuracy, the minimum cutting length is 3mm.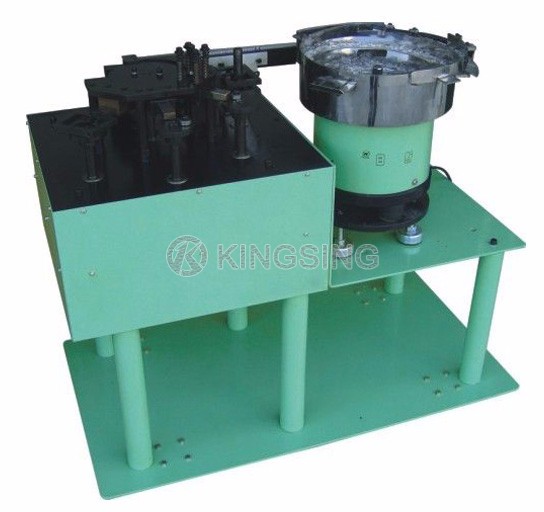 Capacity: 5000-7000 pcs/hour
Power Rating: 200W
Feeding Mode: Vibration Plate Feeding Mode
Available Material: Capacitor, Transistor, LED, etc.
Function: Cutting and forming
Power Supply: AC220V 50Hz
Operation Temperature: 0~40℃
Environment Humidity: 30%~80%RH (No condensation at 40℃)
Net Weight: 65KG
Dimension(L×W×H) : Main machine: 610×420×460mm Vibration disk: 420×420×420mm