This is an 8-wheel drive wire stripping machine with left-side entry, which can cut and strip BVR multi-strand copper wires up to 25mm². It uses 8 wire feeding wheels to feed the material, which improves the stripping force and feeding accuracy, and prevents the wire from slipping between the wire feeding wheels during stripping.

This machine has the function of automatic jumping conduit and lifting wheel, that is, when stripping the tail of the wire, the inlet conduit will automatically lift up to avoid it, and the outlet wheel will automatically lift up to avoid it when stripping the end of the wire. Therefore, the stripping length range of wire tails is greatly expanded. The pressure of the wire feeding wheel can be adjusted through the knob, and it is also equipped with a wire feeding wheel gap adjustment knob and a wire straightening device, which has comprehensive functions and is affordable.

Color touch screen operation interface, parameter setting is intuitive and easy to understand, parameters such as cutting length, stripping length, cutting depth, retracting and output can be set freely in the program. There are single-step mode and automatic mode in the program. In single-step mode, one step of action can be executed every time the button is pressed, which is convenient for debugging parameters.

The top of the machine is equipped with an emergency stop button, which is convenient for emergency shutdown. In addition, a safety protective cover can be selected, and the machine will automatically alarm and stop after opening the protective cover.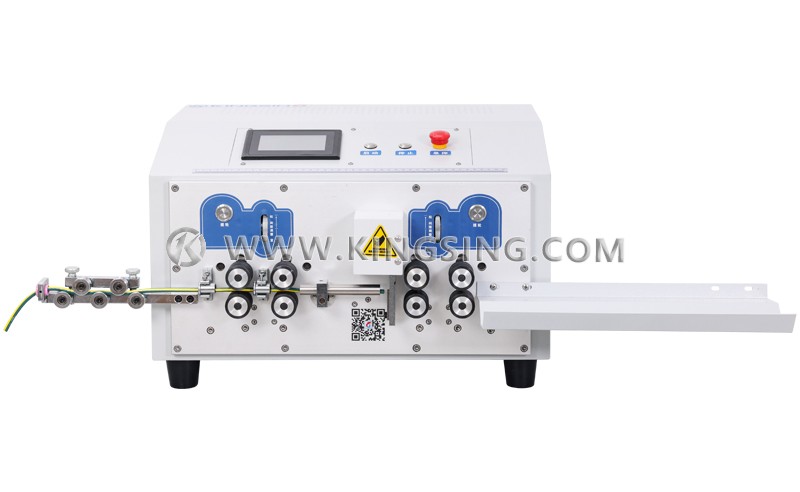 Applicable wire diameter: 1~25mm2
Maximum stripping length: wire head 30mm, wire tail 15mm
Maximum cutting length: 100 meters
Number of middle stripping sections: maximum support 16 middle stripping sections
Processing speed: 2000~5000pcs/hour (depending on the wire)
Net weight: 44kg
Dimensions: 560*480*370mm
Note:
In the case of extremely hard, tough wires, processing may not be possible even within the cross section range. In case of doubt, KINGSING will be happy to provide processing samples of your wires.

Conforms to the relevant CE directives on machine safety and electromagnetic compatibility.