Wire coiling function is commonly required in today's wire harness processing lines, it is difficult to combine coiling in o traditional Wire Cutting Stripping Machines, Thus, the KS-W170 Coiling System has been developed to solve this problem based on a totally different concept.

The dual bowl coiling system is able to coil long wires and cables in o bundles ready for packaging, it allows an operator to collect wire from one bowl while the machine is loading another bowl. With this design, the machine can process continually, improving through-put over single bowl designs.

Equipped with servo motors, adopted belt driven method, this machine is highly accurate in wire measuring, cutting and stripping. The ergonomic design eases setting procedure and brings an enjoyable operation experience.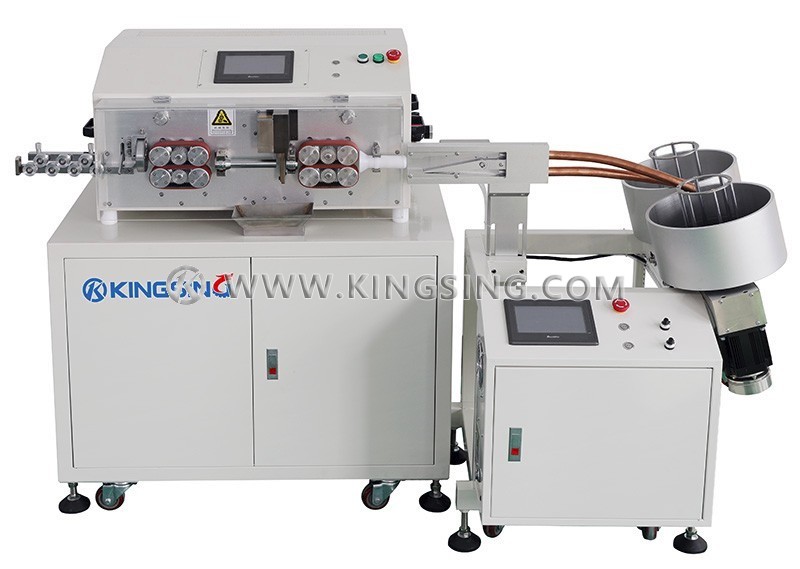 Suitable Wire Diameter: 1~18mm
Max. Wire Gauge: 35mm²
Max. Wire Cutting Length: 100m
Max. Wire Stripping Length: Wire Head 140mm, Wire End 130mm
Roller Lifting Function: Servo Motor Roller Lifting
Conduit Jumping Function: Servo Motor
Program Memory Function: Max. 100 set
Max. Wire Winding Length: 20m
Mini. Wire Winding Length: 3.5m
Drive Mode: 8-roller drive
Motor: Servo Motor
Operation Interface: Color touch screen

Note: Conforms to the relevant CE directives on machine safety and electromagnetic compatibility.