This series is a general-purpose single-sided automatic crimping machine, including 3 sub-models (see technical parameters for details). This machine can cut the wire to a fixed length, strip and twist the wire at one end, and crimp the terminal at the other end. The wire inlet is equipped with 3 sets of straighteners, which can automatically straighten the wire and improve the stability of the machine operation. Multiple sets of wire feeding wheels can jointly feed the wire to prevent the wire from slipping and improve the wire feeding accuracy.

The terminal machine is integrally formed with nodular cast iron, the whole machine has strong rigidity, and the crimping size is stable. The default crimping stroke is 30mm, and the standard OTP bayonet mold is used. In addition, a model with a stroke of 40mm can also be customized, and various European molds can be used. . It can also be equipped with a terminal pressure monitor to monitor the pressure curve changes of each crimping process in real time, and automatically alarm and stop when the pressure is abnormal.

One machine can process a variety of different products. When replacing wires and terminals, it is only necessary to replace the corresponding crimping dies and wire inlet conduits. Color touch screen operation interface, parameter setting is intuitive and easy to understand, parameters such as cutting length, stripping length, twisting force, crimping position and other parameters can be set in the program. The program memory function can save the processing parameters of different products into different program numbers, and the corresponding crimping parameters can be called out with one key when switching products.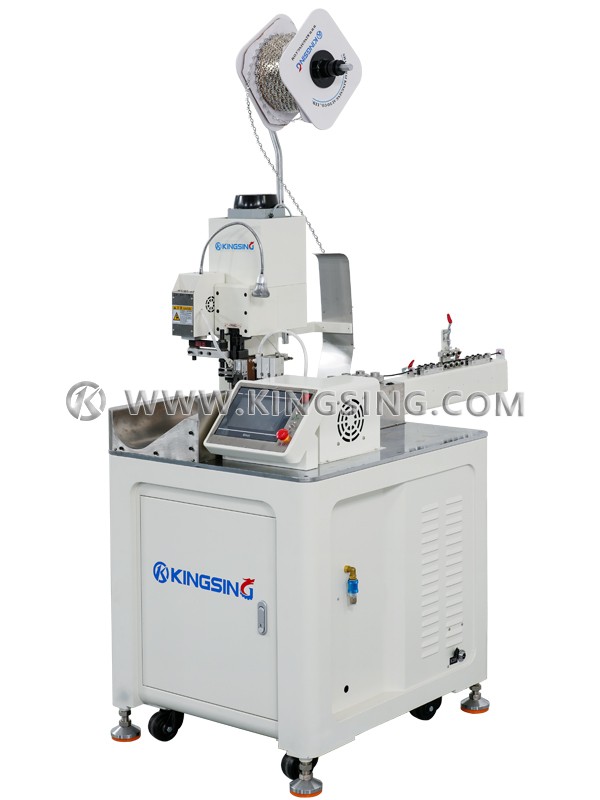 | | | | |
| --- | --- | --- | --- |
| Model | KS-T5536S | KS-T5536T | KS-T5536U |
| Applicable Wire Diameter | 0.1~2mm2 | 0.1~2mm2 | 0.1~4mm2 |
| Feeding Method | Four-wheel delivery | Four-wheel delivery | Eight-wheel delivery |
| Twisting Function | No | Yes | No |
| Max Pressure | 2T | 2T | 3T |
| Net Weight | 260kg | 280kg | 300kg |
| Dimension | 650*700*1500mm | 650*700*1500mm | 700*800*1500mm |
Cutting length: 45~9999mm
Stripping length: ≤15mm (can be customized)
Cutting accuracy: ±(0.5+L*2‰) L=cutting length
Crimping stroke: 30mm (40mm stroke model can be customized)
Applicable terminals: horizontal feed terminals, direct feed terminals, etc.
Production efficiency: 4000~5000 pieces/hour
Operation interface: color touch screen
Optional functions: terminal pressure monitor, long wire conveyor belt, safety shield
Air pressure: 0.5~0.7Mpa
Working voltage: 220V 50/60Hz