The KS-T922 Pneumatic Copper Tape Splicing Machine adopted frequency conversion control and new type of pneumatic copper tape feeding, it works very accurate and stable, and the machine support inching operation which can help saving adjusting time.

The machine can cut & form & crimp the copper tape in one step, no waste material, cost-saving. After special grain processing, the copper tape is more durable and can bear larger tension force.

The crimping speed, force and crimping times can be adjusted easily, and there is a counter as well.

SMC cylinder feeding, high precision and no feeding error.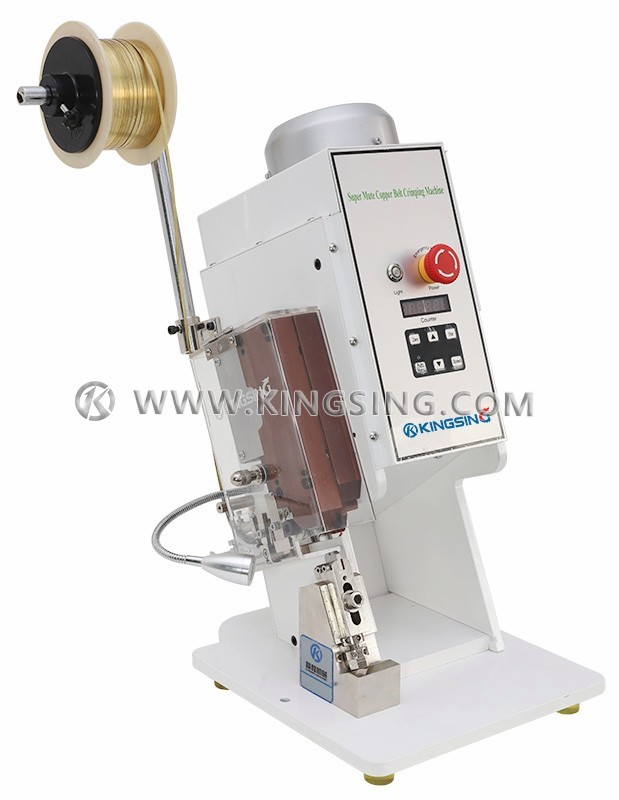 Crimping Force: 15KN
Output: 250 pcs/min
Power Rating: 0.55KW
Power Supply: AC220V 50Hz / AC110V 60Hz
Stroke: 23mm
Air Pressure:0.5 Mpa-0.7 Mpa
Suitable Copper Tape Width: 2mm/4mm/6mm
Feeding Type: Pneumatic
Net. Weight: 50Kg
Dimension: 300 x 350 x 580mm
Application: connecting neon and resistor, crimping wire harness, splicing slide switch and wire, crimping high temperature heating material and splicing thermosensitive components.