It is mainly designed for wires that need splicing and processing; crimping and splicing, connecting wires, replaces the traditional soldering method, without the disadvantages of cold welding and air pollution, and is the easiest and most effective way to pass various safety standard tests (UL, JIS). Humanized design, easy to operate.

Adopting advanced frequency conversion control, adopting a new type of pneumatic feeding device, the action is quick and accurate, the crimping performance is stable, and the operation can be jogged to save adjustment time;

The special continuous copper tape terminal is adopted, and the material is cut, formed, and crimped at one time, and there is no waste material, which saves costs. The copper tape terminal has strong endurance and stable quality after splicting with special texture. Equipped with straight/curved die base for connection of different products.

Rich built-in functions, adjustable crimping speed, force and times, and equipped with electronic counting;

Energy-saving, low noise, using SMC cylinder feeding, high precision.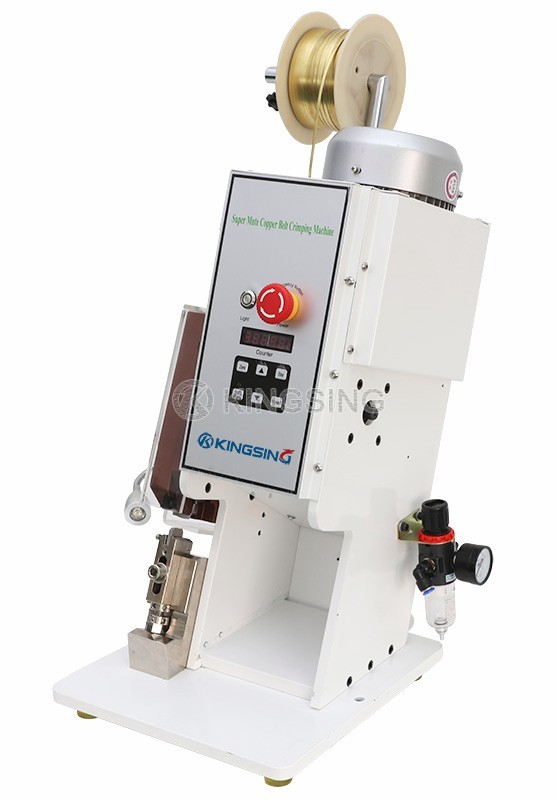 | | |
| --- | --- |
| Pressure | 15KN |
| Output | 250 pcs/min |
| Average Power Consumption | 0.35KW |
| Power | 0.55KW |
| Power Supply | AC220V 50Hz |
| Stroke | 23mm |
| Gas Source | 0.5 Mpa-0.7 Mpa |
| Copper Strip Size | 2mm/4mm/6mm |
| Feeding Method | Pneumatic feeding |
| Net Weight | 50kg |
| Dimensions | 300 x 350 x 580mm |
| Adaptation | Connection of neon lamps and resistors, connection of wires and wires, connection of slide switches and wires, connection of high-temperature heating elements, connection of heat-sensitive components (such as magnetic reed switches, thermostatic fuses). |