1. KS-T911 is specially designed for ribbon cable and multi-core jacket wires. Support Max. 20Pin wire crimping, the cable row spacing can be different, moreover,this machine can skip one conductor without crimping.
2. Quick changeover, time-saving, the die set is very easy to install and adjust. KS-T911 has 10 sets of memory function which can store each cable specificationand die set parameters in different program numbers. After changing die set, the operator only needs to adjust the corresponding number to implement fast switching between different wires and terminals.
3. This crimper is able to process mini. 20mm ribbon cable (or Flat Jacket Cable withouter jacket cable 20mm stripping), normally, other brand machines in the market require at least 30mm cable splitting length. Our machine solved shorter splitting length ribbon cable crimping problem.
4. High precision screw guide with high sensitivity photoelectric sensor, can guarantee wire positioning precision. The crimping position can be set directly in the program, no need mechanical adjustment. Color touch screen operation interface, all parameters easy to understand. Three color alarm lamps can display current working condition at any time.
5. Automatic back paper recycle design, terminal belt can be cut and recycle in the drawer to keep the working area clean and tidy. Stainless steel desk, high strength frame, bottom is equipped with the forma foot wheel, make the machine strong and durable.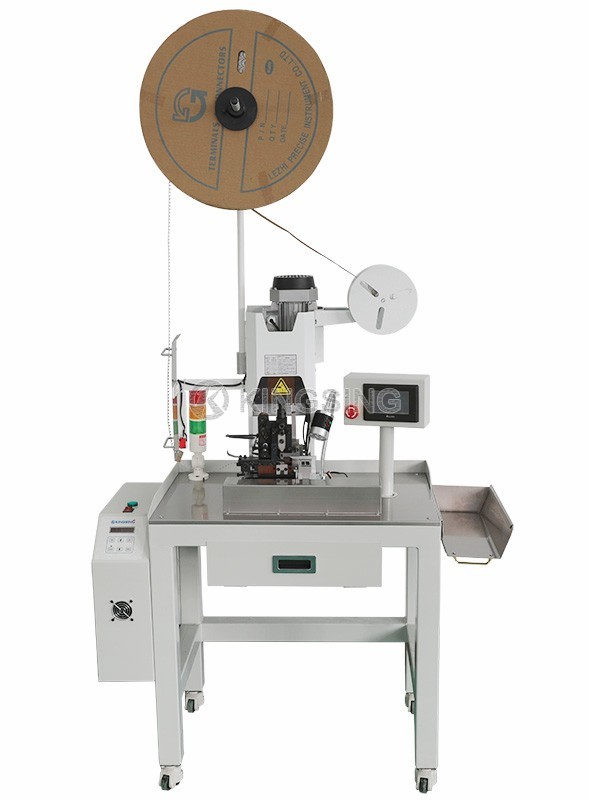 Application:Ribbon Cable, multi-core Flat Cable
Suitable Wire Diameter: 0.5 - 4.0mm
Core Wire Length: 20 - 50mm (ribbon cable splitting length or flat cable outerjacket stripping length)
Max.Width: 20pin or 20mm
Program Memory: Max. 10 sets
Operation Interface: color touch screen
Positioning Mode: High precision screw guide with high sensitivity photoelectric sensor
Stating Mode: foot-switch (sensor mode can be customized)
Secondary Function: back paper recycle, terminal belt recycle, 3 color alarm lamp
Air Supply: 0.4 - 0.6Mpa
Power Supply: 220V 50Hz
Dimension:100×50×140cm