Product Features:
1. Automatic double-end terminal machine computer control pressing, cutting edge, peeling, half peeling, can be riveted on one end of the terminal, half peeling, full peeling; Double riveting terminal, high precision, fast speed, stable performance.
2. Liquid crystal display screen, Chinese interface high definition, simple operation.
3. The whole machine adopts servo control, fast speed, low noise.
4. Full computer touch digital debugging parameters, simple and fast.
5. Detection function is complete, wire, end, air pressure and other machine abnormal automatic alarms.
6. Novel idea, OTP straight die, horizontal die, blade replacement is simple, automatic receiving terminal waste paper, cut off terminal waste material.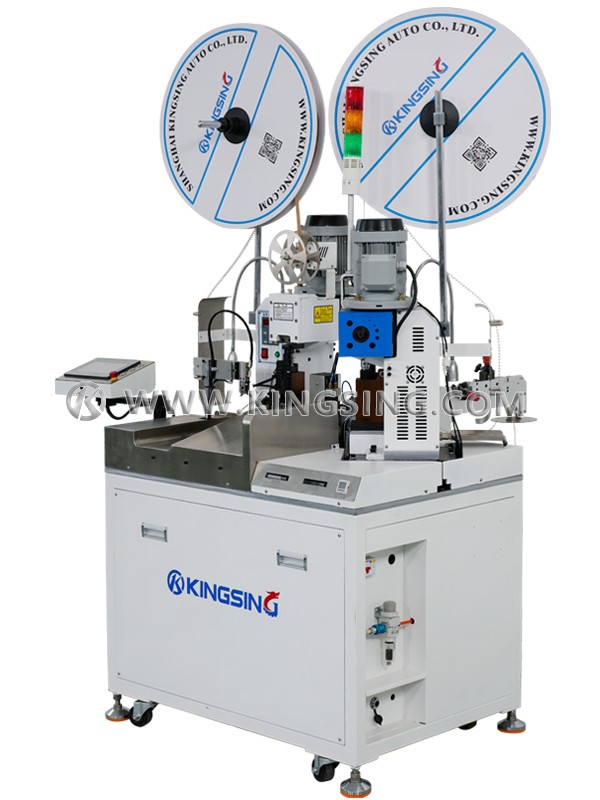 Power Supply:AC220V / 50/60 hz single-phase.
The Production Efficiency:3600 PCS/h (200 m).
Cutting Length:50~9999mm.
Stripping Length:End A 0.1~9.0mm, end B 1.0~9.0mm(half stripping 3.0~9.0mm).
Cut Off The Accuracy:When the length is less than 100mm, the deviation is ±0.5mm;
When the length is greater than 100mm, the deviation is ±1.0mm.
Detection Device:Check whether there are wires, check whether the wires are too tight, check whether the pressure is abnormal, and check whether the pressure drops.
Air Pressure:0.5~0.7Mpa.
Dimension:1000Χ700Χ1550mm.
Net Weight:400Kg.