One side stripping twisting and tin soldering, another side stripping and crimping, twist two wires together to make pair twisting wire.

It's able to handle 4 wires at a time, 2pcs of pair twisting wires can be completed in a single cycle. You can also close the pair twisting function in program.

It's driven by servo motor which has high processing precision, stable operation and very low defect rate.

The body is compact, equipped with a three-color warning light, beautiful appearance, automatic smoking function can reduce the harm of flux to the human body.

Color LCD touch screen operation interface, the parameters are intuitive and easy to understand, you can quickly get started without any experience.

This machine has a program memory function, which can save the processing parameters of different wires in different program numbers, and can be quickly called out when changing the wire.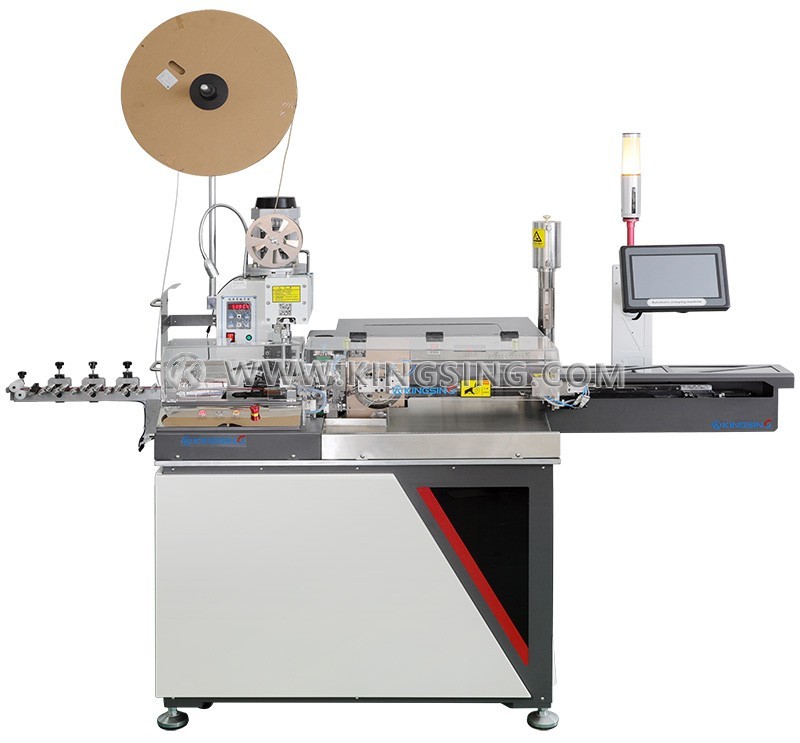 Function: cutting, stripping, twisting, crimping, pair twisting
Applicable Wire Size: AWG18-AWG34
Cutting Length: 50-600m (longer wires can be customized)
Stripping Length: 0-6mm (7-20mm can be customized)
Twisting Length: 2-7mm (7-20mm can be customized)
Soldering Length: 0.5-7mm
Cutting Accuracy: ±L*0.002mm (L=cutting length)
Air Pressure: 0.5-0.7Mpa
Working Voltage: 220V & ensp; 50/60Hz
Net. Weight: 480Kg
Dimensions: 1210×770×1370mm