This is a fully automatic 3-core power cord production line, which can automatically complete the crimping of the head and tail plugs. It is equipped with an automatic cable prefeeder which can feed cable synchronously, and the plugs are automatically fed by the vibrating plates. The operator only needs to load the cable roll on the cable prefeeder, then the machine can automatically complete the following actions: cut the cable to specified length, strip the outside jacket, strip the core wires, adjust the color order of core wires, insert into plug, crimp both ends.
This machine needs to be customized according to the samples. Usually, one machine is only suitable for producing one fixed product, and it is not suitable to produce many different products on one machine.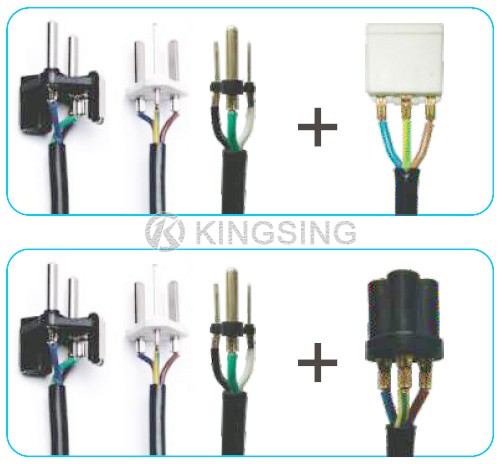 You can turn on/off some functions in the program freely, for example, you can turn off one side crimping function, then it will crimp only one end, another end only stripping. It can also be used as a semi-automatic machine, for example, the cable cutting function can be turned off, and the cable end can be manually clamped into the fixture.
Cable Type: 2-core or 3-core sheathed cable
Available Core Wire Size: ≤1.5mm2
Capacity: 900~1200pcs/hour
Core Wire Stripping Length: 4~7mm
Crimping Force: 4Ton
Good Rate: >99%
Air Source: 0.5~0.8Mpa
Power Rating: 8.5KW
Power Supply: 220/380V 50/60Hz
Net. Weight: 4500kg
Dimension: 5000×5000×1950mm
Note: Conforms to the relevant CE directives on machine safety and electromagnetic compatibility.