This series is a high-precision servo terminal crimping machine, with 5 sub-models (see technical parameters for details). The crimping mechanism is driven by a high-precision servo motor. The body is integrally formed with ductile iron. The machine has strong rigidity, stable crimping dimensions, and built-in pressure monitoring. When the pressure is abnormal, it can automatically alarm and stop. It can also be equipped with a higher-precision terminal pressure monitor, which supports wall-mounted sensor, hanging head sensor and baseplate sensor.

Color touch screen operation interface, the crimping stroke can be set directly in the program, no need to manually adjust the screw. The program memory function can save up to 20 sets of data, and the crimping parameters of different products can be saved in different programs. When changing the mold, the corresponding parameters can be called out with one key, especially suitable for crimping a variety of different terminals with one machine occasion. The program has a built-in stroke measurement function, which can automatically measure the crimping stroke after the mold is installed, which greatly saves debugging time.

This series of terminal machines has strong versatility and can crimp all kinds of cross-feed terminals, direct-feed terminals, U-shaped terminals, flag-shaped terminals, double-tape terminals, tubular insulated terminals, aviation terminals, bulk terminals, etc.When crimping different terminals, only the corresponding crimping dies need to be replaced. The default crimping stroke is 30mm, and the standard OTP bayonet mold is used to support quick mold replacement. In addition, models with a stroke of 40mm can also be customized to support the use of European molds and other special molds.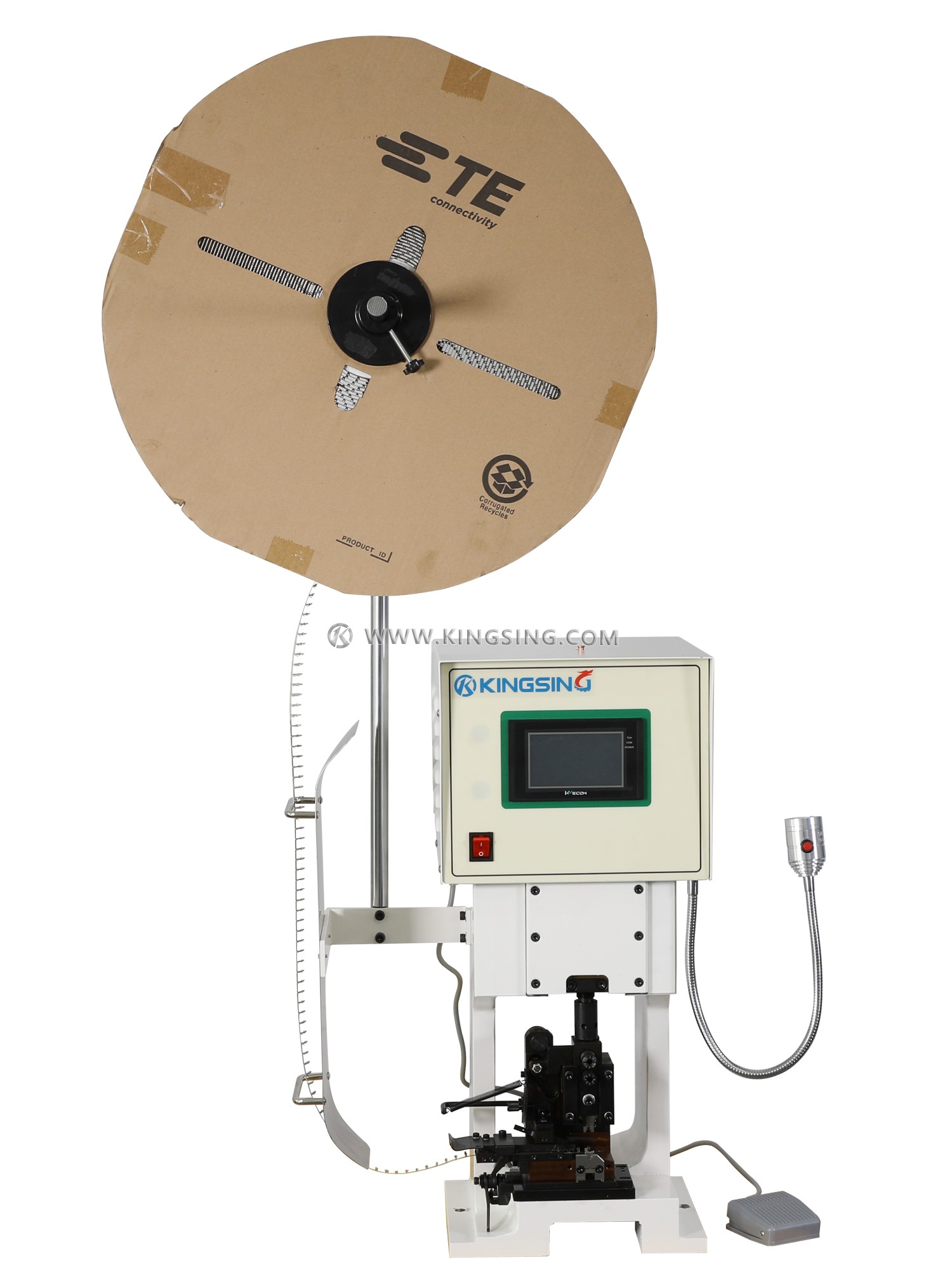 | | | | | |
| --- | --- | --- | --- | --- |
| Model | Max Pressure | Motor Power | Net Weight | Dimension |
| KS-T55912 | 2T | 1000W | 63kg | 286*310*645mm |
| KS-T55913 | 3T | 1500W | 63kg | 286*310*645mm |
| KS-T55914 | 4T | 2000W | 150kg | 350*325*735mm |
| KS-T55916 | 6T | 2300W | 150kg | 360*325*755mm |
| KS-T55918 | 8T | 3000W | 155kg | 360*325*755mm |
Optional features:
4T and above models can be equipped with a box-type workbench with universal casters to facilitate equipment movement.


MES management: connect to the MES system through the network, and remotely issue production tasks.

OES pressure monitoring: Although the machine has built-in pressure monitoring, its function and sensitivity are limited, and a high-precision OES pressure monitor can be selected.

Crimping stroke: The default is 30mm stroke, OTP mold card type, 40mm stroke can be customized, European mold bayonet.