This heat shrink tubing processing machine is specially designed for the occasions where the heat shrinkable tube is located in the middle of the wire. It is usually used together with an ultrasonic wire splicing machine, which can improve work efficiency.
This machine is small in size and easy to move, and is usually used on the production line. It adopts circulating hot air heating method, the temperature in the heating chamber is balanced, and the heat shrinkable tube can be heated evenly.
The machine is safe to operate, the heat shrinking cavity is located inside the machine, and there is an clip on each side of the pay-off station. When the user places the wire, the clip will clamp the wire and moves the wire into the heating cavity, and after the heat shrinking, the wire will automatically pop out.
Color touch screen opertation interface, parameter settings are intuitive and easy to understand. It supports 485, network port communication, can be connected with MES system to realize intelligent production.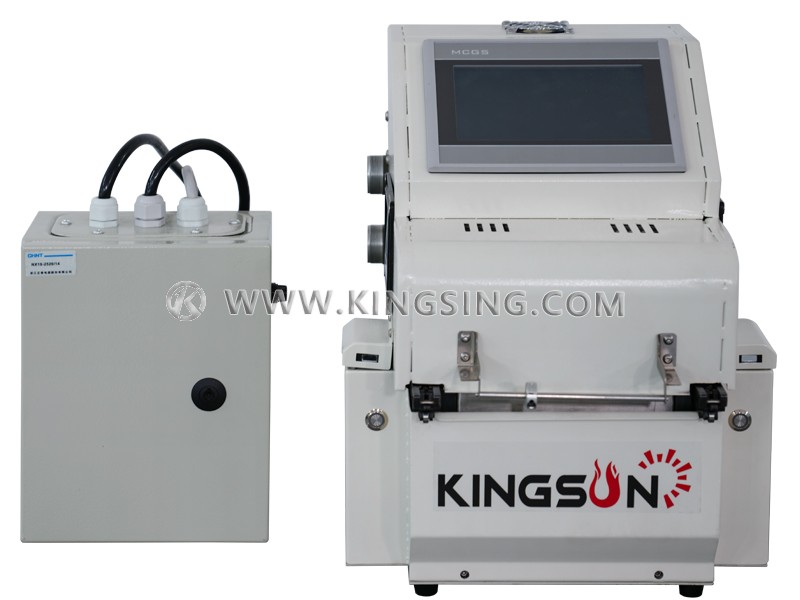 Max. Temperature: 400℃
Max. Tube Length: 80mm
Max. Tube Diameter: 8mm
Max. Wire Size: 10mm2
Air Pressure: 0.4~0.6Mpa
Power Rating: 800W
Power Supply: 220V 50/60Hz
Net. Weight:
Dimention: 290×235×370mm
Note: Conforms to the relevant CE directives on machine safety and electromagnetic compatibility.