Wire Harness Taping Machine KS-A2043 is suitable for wire harness taping, working speed is adjustable, taping cycles can be set. Apply to different kinds of non-insulation tape material, such as duct tape, PVC tape, etc. Winding effect is smooth and no fold. Make sure the tape on each lap winding with a circle of overlapping 1/2 covered. Easy to switch between different winding modes. The machine can realize different taping method, for example, same position with point winding, and different positions with straight spiral winding. The machine also has a counter which can record the working quantity. lt can replace manual work and improve taping performance.
Light and portable;

Robust & reliable;

Excellent price/performance ratio;

Easy to program and operate;

The operation is simple, the operator can get started quickly without any training;

The processing parameters can be set in the screen directly, which is more convenient;

With program storage function, convenient to process wires of different sizes;

Optional wire pulling clamp to meet different processing requirements.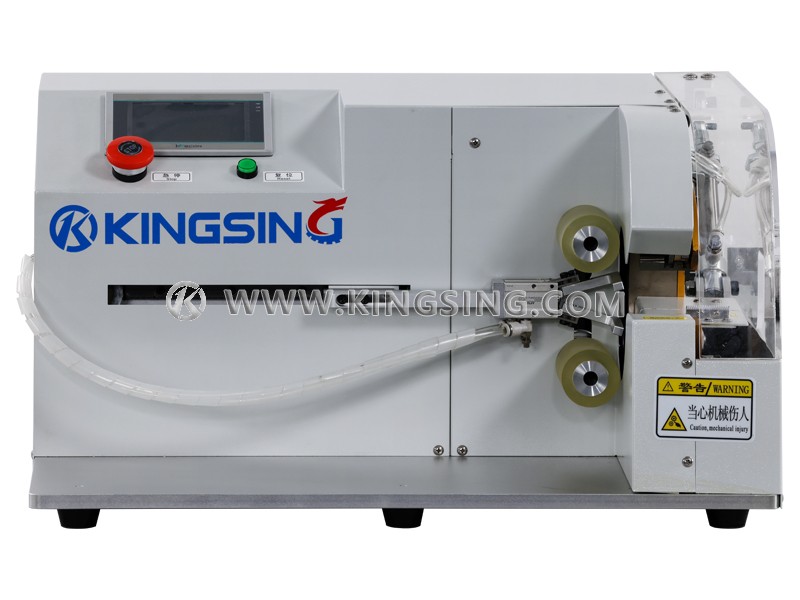 Tape specifications: Inner diameter Ф38mm/Outer diameter ≤Ф10mm/Width ≤20mm
Working mode: Full wrapping/Point wrapping/ Muti-segment wrapping
Tape type: PVC/lint/acetate tape(no interleaving paper), etc
Controlling mode: PLC/Touching screen/Foot pedal switch
Air pressure: 0.5~0.7Mpa
Wrapping length: infinite
Wire diameter: 3mm~30mm
Working temperature: 0~40℃
Humidity: 10~90%RH(no condensation)
Cooling mode: Fan cooling
Max frequency: 4500r/min
Power supply: 220V 50Hz/110V 60Hz
Dimensions (L x W x H): 750*485*330mm
Net Weight: 56Kg
Note: Conforms to the relevant CE directives on machine safety and electromagnetic compatibility.