This series is a high-precision cast iron terminal machine with 4 sub-models (see technical parameters for details). The body is integrally formed of ductile iron, the whole machine has strong rigidity, and the crimping size is stable. The terminal pressure monitor can be selected, and it can automatically alarm and stop when the pressure is abnormal.

Strong versatility, can crimp all kinds of cross-feed terminals, direct-feed terminals, U-shaped terminals, flag-shaped terminals, double-tape terminals, tubular insulated terminals, aviation terminals, bulk terminals, etc.When crimping different terminals, only the corresponding crimping dies need to be replaced. The default crimping stroke is 30mm, and the standard OTP bayonet mold is used to support quick mold replacement. In addition, models with a stroke of 40mm can also be customized to support the use of European molds and other special molds.

The crimping machine is driven by a variable frequency motor, and the motor starts to work only when crimping. The noise is smaller than that of the traditional terminal machine, and it saves more power. There is a counter on the control panel, and the crimping speed and crimping force can also be set. The whole machine is compact in structure and beautiful in appearance, which can meet various high-quality crimping needs.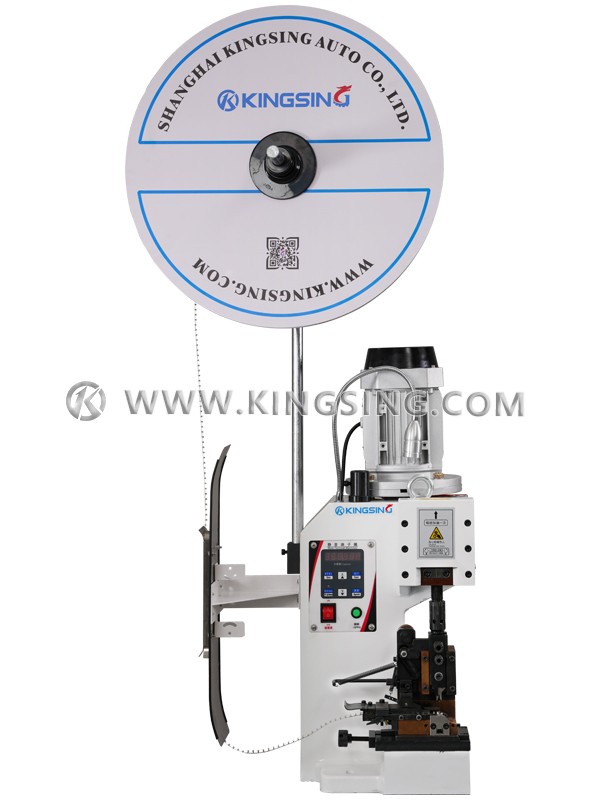 | | | | | |
| --- | --- | --- | --- | --- |
| Model | KS-TW002S | KS-TW002 | KS-TW003 | KS-TW004 |
| Max Pressure | 2T | 2T | 3T | 4T |
| Motor Power | 750W | 750W | 1100W | 1500W |
| Net Weight | 60kg | 70kg | 70kg | 78kg |
| Dimension | 250*190*690mm | 250*280*650mm | 250*280*650mm | 260*300*710mm |
Crimp stroke: 30mm (40mm stroke can be customized)
Voltage: 220V 50/60Hz
Note:
In the case of extremely hard, tough wires, processing may not be possible even within the cross section range. In case of doubt, KINGSING will be happy to provide processing samples of your wires.

Conforms to the relevant CE directives on machine safety and electromagnetic compatibility.