This is a high-precision servo-type twisting and tinning terminal machine, which integrates functions such as wire cutting, stripping, twisting, tinning, and crimping terminals. It can process up to 5 wires at the same time, with high production efficiency. The workmanship of the whole machine is precise, the main moving parts are driven by high-precision servo motors, the cutter adopts positive and negative screw structure, and the stripping precision is high. The terminal machine is fixed on the slide rail, and its front and rear positions can be precisely adjusted through the handle with scale, and the crimping height of the terminal can also be fine-tuned through the precision knob on the top of the terminal machine.

The terminal crimping machine is integrally formed of ductile iron. The whole machine has strong rigidity and stable crimping height. It can be equipped with a terminal pressure monitor to monitor the pressure curve changes of each crimping process in real time. When the pressure is abnormal, it will automatically alarm and stop. It supports automatic addition of flux and solder wire. The liquid level of the tin furnace and flux can be kept stable, and the soldering depth is accurate. There is also a smoker on the edge of the tin furnace, which can exhaust the smoke through the pipe. Standard parts are all well-known brands, such as TBI screw module, HIWIN linear guide rail, SMC cylinder, NSK bearing, Omron temperature controller, etc. With its excellent processing precision, this machine can meet the strict requirements of most occasions.

This machine adopts the concept of modular flexible design, one machine can easily process many different products, and each functional module can be opened or closed freely in the program, for example, the tinning function can be closed. When replacing wires and terminals, only the corresponding crimping dies and wire inlet conduits need to be replaced. The machine has a wide range of uses. After the current product is produced, it will not cause idle waste of the machine, and it can be easily switched to produce other products. The color touch screen operation interface, the program memory function can save the processing parameters of different products in the database, and when switching products, the corresponding processing parameters can be called out with one key, saving debugging time.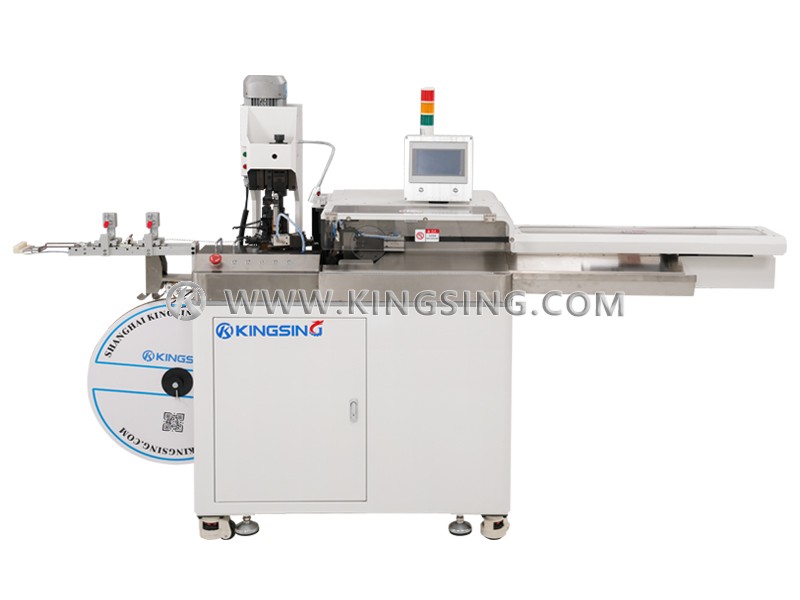 Applicable wire diameter: AWG32~18 (0.02~1mm2)
Cutting line length: 30~800mm (can be customized)
Wire delivery method: pull wire clip
Cutting accuracy: ±(0.1+L*2‰) L=cutting length
Stripping length: ≤10mm (can be customized)
Solder length: 0.5~10mm
Maximum pressure: 2T
Crimp stroke: 30mm (40mm can be customized)
Production efficiency: 4000~6000 pieces/hour (processing 5 wires at the same time)
Operation interface: color touch screen
Motor type: Mitsubishi servo motor
Air pressure: 0.5~0.7Mpa
Working voltage: 220V 50/60Hz
Net weight: 280kg
Dimensions: 1650*600*1400mm