This is an ultrasonic wire harness terminal welding machine, mainly used for welding wires with copper terminals. The ultrasonic welding machine converts electrical energy into mechanical vibration through the transducer and acts on the conductor. The heat generated by the vibration and friction will melt the metal, and the cylinder will weld the conductor and the terminal together after applying a certain pressure. During the welding process, no current passes through the conductor to be welded, the welding time is short, the strength is high, and the resistivity is almost 0. It is mainly used in the fields of automobile wiring harness and motorcycle wiring harness.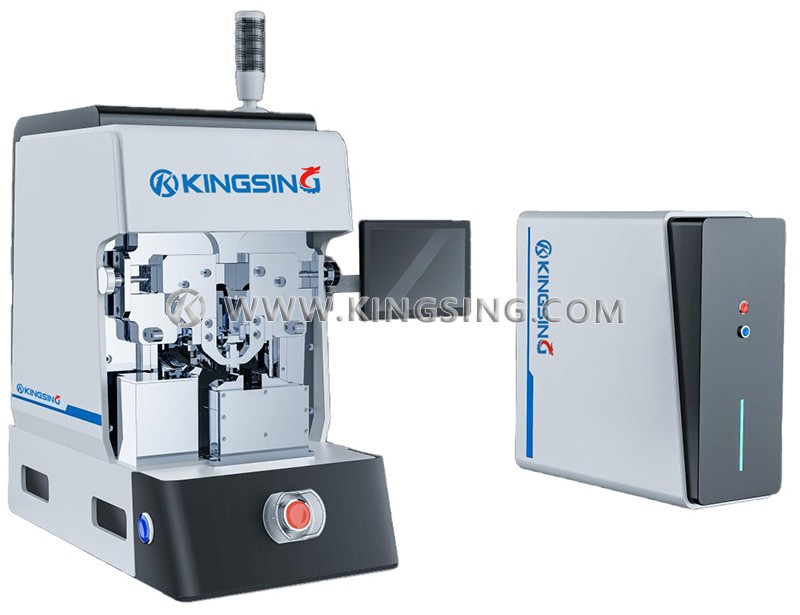 Applicable material: welding of copper wire or aluminum wire and copper terminal
Applicable wire diameter: 2~35mm2
Ultrasonic frequency: 20KHz
Ultrasonic power: 4000W
Production efficiency: 120~150 pieces/hour
Control system: 10-inch touch screen industrial computer
Data storage: 10000 sets of welding parameters can be saved
Air pressure: 0.4~0.7Mpa
Working voltage: 220V or 380V
Net weight: 350kg
Dimensions: 665*360*720mm
Note:
In the case of extremely hard, tough wires, processing may not be possible even within the cross section range. In case of doubt, KINGSING will be happy to provide processing samples of your wires.

Conforms to the relevant CE directives on machine safety and electromagnetic compatibility.