This is a high-speed computerized wire stripping machine. Both the cutter frame and the feeding wheel are driven by high-speed servo motors, and the production capacity is twice that of the same type of wire stripping machine. It adopts belt pulley to feed, and there is no indentation on the surface of the wire sheath, and the gap of the feed wheel can be set directly in the program, without manually adjusting the screw. The upper and lower feeding wheels are driven by positive and negative screw rods. When opening or closing, the center line is always aligned with the center of the knife edge. When processing a variety of wires with different diameters, excellent wire stripping effects can be guaranteed.

This machine is a pure electric wire stripping machine, which does not need an air source, and has the function of jumping guide and lifting wheel. The jump guide function means that when stripping the wire tail, the wire guide can be automatically lifted to avoid it, thereby increasing the stripping length range of the wire tail. The function of lifting wheel means that the outlet wheel can automatically open and avoid when stripping the wire head, which can ensure that the wire will not be pressed by the outlet wheel when stripping the wire head, thus greatly increasing the stripping length range of the wire head.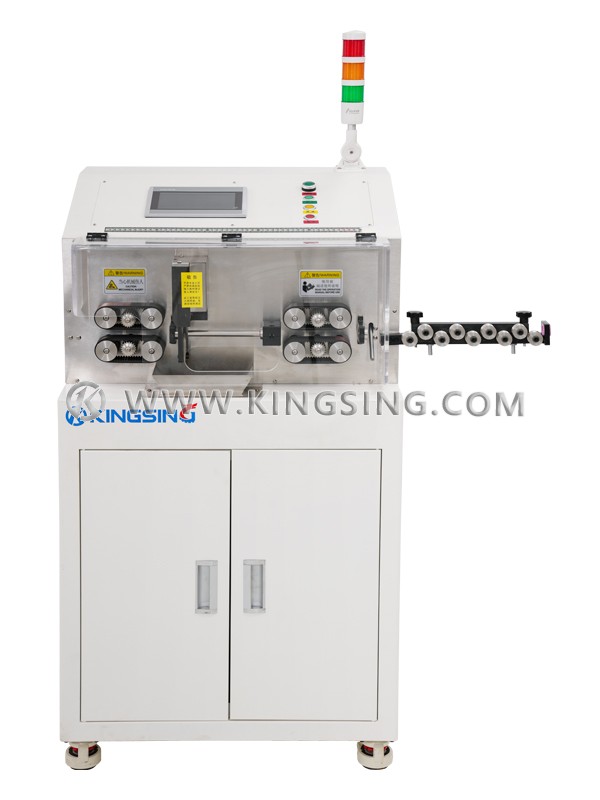 Applicable wire core section: 2~50mm²
Stripping length: Wire head 0~250mm, wire tail 0~150mm
Min. glue length: 50mm
Max cutting length: 1000m
capacity:1500~2500pcs/h
Cutting tolerance: 0.002*L(L=cutting length)
Program memory function: it can save up to 200 groups of programs
Power Supply:220V 50Hz
Power Rating: 800W
Net weight: 105kg
Dimensions:650*550*1100mm
Note:
In the case of extremely hard, tough wires, processing may not be possible even within the cross section range. In case of doubt, KINGSING will be happy to provide processing samples of your wires.

Conforms to the relevant CE directives on machine safety and electromagnetic compatibility.