This is a semi-automatic terminal crimping machine, suitable for crimping various cross-feed terminals, direct-feed terminals, U-shaped terminals, flag-shaped terminals, double-tape terminals, tubular insulated terminals, bulk terminals, etc. When crimping different terminals, only the corresponding crimping dies need to be replaced.

Driven by a variable frequency motor, the motor only starts to work when crimping, the noise is smaller than the traditional terminal machine, and it saves power. There is a counter on the control panel, and the crimping speed and crimping force can also be set. The workbench at the bottom of the machine has universal casters for easy movement.

With automatic paper winder, the back paper of the terminal can be recycled into rolls when crimping the transverse feeding terminal; With terminal strip cutting device, the controller can be set to cut more terminals once, and the waste material will fall into the drawer after cutting, and the working table will always be kept clean.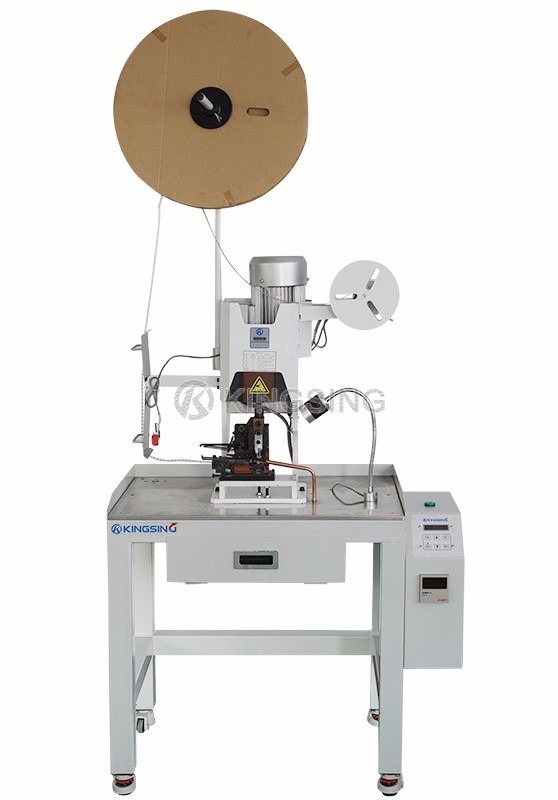 Maximum pressure: 1.5T
Crimp stroke: 30mm
Applicable mold: OTP mode, Japanese mold
Air pressure requirement: 0.4~0.6Mpa
Voltage: 220V 50/60Hz
Motor power: 550W
Built-in functions: terminal backing paper reel, material tape fixed-length cutting and recycling
Net weight: 100Kg
Dimensions: 900×500×1420mm
Note:
In the case of extremely hard, tough wires, processing may not be possible even within the cross section range. In case of doubt, KINGSING will be happy to provide processing samples of your wires.

Conforms to the relevant CE directives on machine safety and electromagnetic compatibility.